Burke's Washington and Marousek Perform Well Through Cold Temps
By Will Cummings
myHitnews.com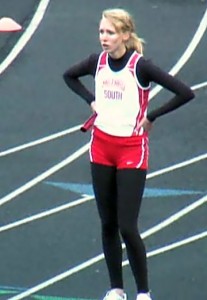 Oh, it was cold out there at the Millard South Invite, but the athletes showed up and a few delivered some pretty good marks considering the awful conditions.
Last year at this meet, Omaha Central freshman LaQue Moen-Davis trumpeted her way onto the Nebraska high school track scene with a performance that foretold greatness. I know young talent when I see it–and Davis was awash in it! So much so, that it prompted me to write a article about her performance that day as well as her future potential (review article: LaQue Moen-Davis ). I didn't think I'd see another freshman girl burst onto the scene so soon—but there is another freshman phenom lurking in the blocks: Clara Nichols.
On a very cold and wet day, Millard South's Clara Nichols clocked a 25.59 on her way to taking first place in the 200 meter. To put a little perspective on her mark, Davis' winning 200 time at last season's Invite was 26.02. Earlier in the meet, Nichols ran a 58.69 to win the 400 meter. And she topped those two performances off by anchoring Millard South's girls 400 relay to a blowout victory. Nichols also  ran a 12.59 100 meter to place 2nd in the event.
What's Clara Nichols' potential? I didn't have the immediate feeling of "something special" that I had with Davis. However, the more I watch her film the more she pulls me that way. Nichols' running form is very impressive for a freshman and more polished than Davis' at this point in her career. One thing for sure, she will be a threat to anyone in the 200 or 400 meter races. Along with her form, Nichols has the type of God-given frame that can mature and allow her to become one of Nebraska's best girl sprinters ever.
 On the boys side, the most impressive performance of the meet was Omaha Burke's Jake Marousek posting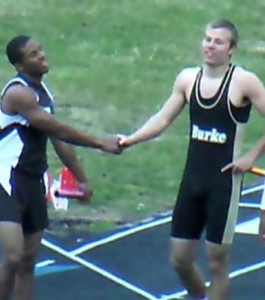 a 22.09 200 meter in those near freezing conditions—around these parts, that's a good time in the best of weather. It was a personal best for Marousek—and it was no fluke! He ran away from the field. It all started with a great first turn that saw him snatch much of the stagger from the field between the turns. Marousek followed up his strong start with a very smooth and relaxed finish—something that has been lacking until now.
 Marousek fell a little short to Papillion-La Vista South's Michael Burrus in the 100, but both managed to out sprint to the finish line the reigning All-Class 100 meter champion Kohlman Adema Schulte. who placed third in the event. When is the last time Adema-Schulte lost a 100?
Omaha Burke's Stephon Washington is preparing to take home more than just the 300 intermediate hurdle gold at this year's state meet: Washington ran a nice 15.01 to take first place in the 110 HH to go along with his causal victory time of 39.39 in the 300.  Another impressive performance was turned in by Millard West shot putter Taylor Shapland who threw 59-06.75 in the cold. Shapland's teammate David Poots, a junior drawing D-1 interest from the likes of Nebraska and Pepperdine, won the 3200 with a time 0f 10:01.85. On the girls side, Millard West also got outstanding performances by Brittany Phillips, who won the 1600 and 3200 runs in 5:32.83 and 11:36.66 respectively.
myHitNews.com Performer of the Meet: Clara Nichols, Millard South
Congratulations Team Champs: Boys–Millard West. Girls–Millard North.
Below, watch Nichols, Phillips, Marousek, Burrus and meet's top boys 4×100 team:

http//www.youtube.com/watch?v=5saSOmO0ODA  
Related Links
Nebraska High School Track Leaders
Freshman LaQue Davis Shines at Millard South Invite (April '08 post)