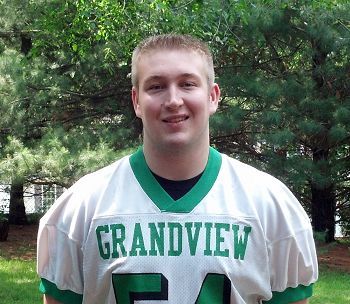 Eight man football player Connor Arrasmith, a 6-2, 230 lbs. prospect out of Des Moines, Iowa's Grandview Park Baptist, is beginning to get noticed by college coaches.The versatile class of 2014 DE/TE prospect is the first student /athlete in his school's history to start as a freshman on both the football and basketball teams. Arrasmith earned 2nd team all-district honors last season in football and was 2nd team all-conference in basketball.
He plays well enough on both sides of the ball to make him a legitimate TE or DE college prospect. The fact that Arrasmith carries a 3.9 GPA from a private school stands to make him an even more appealing candidate to those top-tier academic colleges and universities.
His father, Lance Arrasmith, says that Connor has been working hard this spring and summer with a trainer to get "bigger and "quicker." If all that hard work and preparation comes together this coming fall Connnor should have a big senior season in 2013.
 Below, check out Connor Arrasmith's 2012 Junior Season Football Highlight Video
Related Links