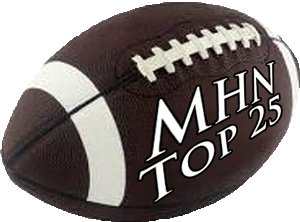 Can you believe it? We still have eight whole weeks left before the first kickoff of the 2013 Nebraska high school football season in late August.
Not much has changed in Nebraska prep recruiting since my last update on June 12th (click here to view article). Since that time no new class of 2014 prospect has received a Division 1A offer. However—for the next best thing—Papillion-LaVista's Jalen Allison did receive an offer from the two-time Division 1AA National Champions North Dakota State. Allison, a 6-0, 170 lbs. DB, also committed to the Bison on June 22.
Allison looks Impressive
This past spring at the 2013 Nebraska High School Track and Field State Meet Allison ran an awesome second leg down the backstretch for the Monarchs' 4×100 relay. The Papio boys smashed the state record with time of 41.40.
I got to see Allison up close and personal at the state meet and he looks like all that, and his listed measures are very impressive: 37" vertical, 4.47 40 yd. dash and 4.05 short shuttle time. Allison looks like a really good get for the reigning national champions. But I wouldn't be surprised if some D-1A schools come to offer—especially if he has a strong senior season.
Below, check out Jalen Allison's second leg effort on Papio's state record-breaking 4x100m relay team at the 2013 state meet.

Harrison Phillips Hauls in Offers
How about Harrison Phillips!  The 6-4, 246, lbs., Millard West DE just keeps racking up the offers from across the country. Looking at some of his film—I can definitely see why so many schools are giving him love—he is explosive. Consequently, it's hard for me to figure out why Rivals, currently, only ranks Phillips as the state's 4th best prospect in the class of 2014. Below are Rivals Top 5 football prospect rankings for the Nebraska high school football class of 2014.
Rivals Top 5 Nebraska High School Football Prospects
D.J. Foster, OG, 6-3, 327, Lincoln Southeast (committed to Nebraska)

Mike Stoltenburg, DE, 6-5, 250, Gretna (committed to Nebraska)

Luke Gifford, ATH, 6-3, 195, Lincoln Southeast (committed to Nebraska)

Harrison Phillips, DE, 6-4, 246, Millard West

Trey Carr, DB, 5-11, 175, Omaha Burke
Maybe Phillips will have to commit to Nebraska before he sees a higher state ranking from Rivals. Nonetheless, the talented Millard West Wildcat is still very much in contention for the No. 1 spot on MHN's Preseason Top 25 Nebraska High School Football Prospects ranking, which is scheduled to be released on  July 28, 2013.
MHN Class of 2014 Nebraska High School Football Prospects Board
Submit class of 2014 prospect names to
admin@myhitnews.com
. Please include height, weight, position, school and any athletic performance measures
.

Last updated July 2, 2013:
Nebraska High School Football

Offense & Defense


Name

School

POS

HT, WT

Bench, Squat

40

Shuttle

Vertical
Broad Jump

ESPN

Grade


Rivals

Stars


D.J. Foster
Lincoln Southeast 

2012 1st Team All-Nebraska & Super-State 2011 First Team Super-State 

Offers:

 

Florida, Georgia, UCLA, Iowa, Iowa State, Missouri, Nebraska (committed), Vanderbilt, Wake Forest, Ohio

OG/DL

6-3, 327
(295, 425)
5.4
NR
25″

4 Star
81
3 Star
5.7


National




POS Rank OG 




14

Luke Gifford
Lincoln Southeast


Offers Nebraska (committed) Iowa State, Ohio, Toledo, North Dakota

ATH

6-3, 195
NR
NR
NR 

35″

NA

3 Star
5.6


National




 POS Rank ATH




37

Harrison Phillips
Millard West


Offers: Stanford, UCLA, Nebraska, Kansas State, Ohio, Florida Atlantic, Northern Illinois, Army, Toledo, Illinois State, Yale, Lehigh, South Dakota, South Dakota State, North Dakota, North Dakota State, Wisconsin, Pennsylvania, Princeton, Western Illinois, Harvard, Wyoming, Western Illinois

DE

6-4, 246




(365, NR)




4.9




4.26




32″

NA

3 Star   


5.6




National


POS Rank
DE 


30

Kenzo Cotton
Papillion-La Vista
100m and 200m state record holder (10.41 and 21.31 respectively); owns state's fastest F.A.T. 100m (10.41) and first freshman boy to win 200m all-class state meet gold.

Offers: Wisconsin, Kansas State, Ohio

 ATH

6-2, 190 (265, 375)
4.4
NR
34″

NA 

 NA

Mick Stoltenberg
Gretna 

Offers: Nebraska (committed) Army, Ohio, Tulsa,  Pennsylvania, North Dakota, South Dakota State, South Dakota, Northern Colorado, 

DE

6-5, 250
(315, 395)
4.9
NR
38″
.

NA

3 Star 

5.7

National
POS Rank DE
27

Ross Drwal
Millard West


Offers: North Dakota, South Dakota State, South Dakota, Lehigh

DB

6-1, 195
(315, 465)
4.52
4.1
32″

NA

NA

Easton Stick
Omaha Creighton Prep  

2012 2nd Team All-Nebraska

Offers: Akron, North Dakota State, Northern Colorado, South Dakota. South Dakota State

QB

6-2, 198
NR
NR
4.2
34″

Invited to U.S. Army Combine

2 Star 5.2

Austin Rose
Lincoln North Star


2012 2nd Team Super-State


1st Team All-City


Offers: Campbell

RB

6-0, 220
(290, 480)
4.6
4.1
33″

NA

2 Star
5.4

Blake Emsick
Omaha Burke


Offers: North Dakota

LB

6-1, 205
(265, 405)
4.68
NR
31″

NA

NA

Jalen Allison
Papillion-La Vista

Offers: North Dakota State (committed)

DB

6-0, 170
(225, 355)
4.70
4.05
37″
121″

NA

NA

Makiah Slade
Lincoln Northeast 

DB

6-1, 198
(260, 485)
4.5
NR
39″

NA

NA

Alec Ditoro


Papillion-La Vista

2012 1st Team All-Nebraska & Super-State

QB/ATH

NA

N

A
Conner Wieck 
Millard West

DB/ATH

NR

NA

NA

Skyler Monaghan


Millard West  

2012 1st Team All-Nebraska & Super-State;

2012 1st Team All-Metro


2011

Second Team All-Metro

 WR

5-10, 160


(220, 350)




4.40




4.1




31″

NA 

NA 

Tyree Peter
Omaha Benson

TE

6-5, 205
MR

NA

NA

Trey Carr


Omaha Burke

2012 1st Team All-Nebraska & Super-State

2012 1st Team All-Metro 

Offer: North Dakota, South Dakota, South Dakota State

DB 

5-11, 175
NR

NA 

3 Star
5.5

Zach Reeg




Elkhorn South

QB 

6-21/2, 190


(195, NR)




4.6




NR

NA 

NA

Clay Fisher


Millard North

2012 1st Team All-Nebraska & Super State 

2012 1st Team All-Metro

DB/SF

6-2, 202 (315, 405)
4.58
NR
33″

NA

NA

Jake Paulsen


Cozad 

2012 Class B 100 meter and high Jump champion. Rushed for over 1,300 yards in 2011.

 RB

6-0, 170


(225, 275)




4.46

NA

NA 

DeQuan Bell




Omaha Roncalli 

2011 1st Team

 All-Omaha Area

 RB

5-9, 150




NR

NA 

NA 

Lane Yates


Omaha  Westside

2012 2nd Team All-Nebraska

2012 1st Team All-Metro

 RB

5-9, 180

NA 

NA 

Joshua

Coyle


West Holt

2012 Class C2 1st Team All-State

Rushed for 1,884 yards in 2012.

1st Team All-Conference, Honorable Mention All-State. Rushed for 1,729 in 2011.




RB/LB 

5-11, 195 (230, 385)
4.58
4.23
30.5″

NA 

NA 

Tom Young
Omaha Westside

2012 2nd Team All-Metro

OL 

6-3, 275
NR

 NA

NA 

Nick McEwin
Elkhorn South

LB 

6-0, 205
(365, 500)
4.95
4.15
27.3″
99″

NA 

NA 

Joshua Thielen


Blair 
 

OL/DL 

 6-3, 235
(235, 400)
NR
NR
30″
108″

NA 

NA 

R.J. Urzendowski




Creighton Prep

 

2012 1st Team All-Nebraska & Super-State

2012 1st Team All-Metro

2012 Jr. Season

WR

6-0, 178
(205, 325)
4.52
4.03
36″

Invited to U.S. Army Combine

2 Star
5.3
Yohanna Shokai
Lincoln High

RB 

5-11, 175
NR

NA 

NA 

Matt Dietz
Lincoln North Star

2012 1st Team All-City

DL/OL 

6-4, 300

NA 

NA 

Harrison Phillips
Millard West

2012 1st Team All-Nebraska & Super State

2012 1st Team All-Metro

DL 

6-3, 235
NR

NA 

NA 

Drew Fitzmorris
Omaha Westside

2012 2nd Team All-Metro

DB 

5-10, 175
NR

NA 

NA 

Branden Vandervorst
Millard North

2012 2nd Team All-Metro

OL 

6-2, 265
NR

NA 

NA 

Hayden Guy
Omaha Burke

2012 2nd Team All-Nebraska 

2012 2nd Team All-Metro

K 

6-1, 165
NR

NA 

NA 

Michael Emodi
Creighton Prep

2012 2nd Team All-Metro

LB 

6-4, 210
NR

 NA

NA 

JaVaughn Perkins
Omaha North 

2012 2nd Team All-Metro

LB 

5-10, 165
NR

NA 

NA 

Colton Hough
Omaha Burke

2012 2nd Team All-Metro

ATH 

6-1, 225

NA 

NA 

Anthony Vigneri
Omaha Gross

2012 First Team All-Area

RB 

6-0, 185
NR

NR 

NR 

Zach Flott
Ralston

2012 First Team All-Area




DL/OL 

6-5, 270
NR

NA 

NA 

Brady Radik
Gretna

2012 First Team All-Area

LB 

6-0, 200
NR

NA 

NA 

Nolan Siemonsma
Plattsmouth

2012 First Team All-Area

ATH 

6-3, 230
NR

NA 

NA 

Tyson Cisneros
Lincoln Pius X


2012 1st Team All-City

DL/OL 

6-2, 280
NR

NA 

NA 

Mark Hruska
Lincoln Southwest

2012 1st Team All-City

DL/OL 

6-3, 300
(325, 515)
5.4
4.8
25″

 NR

2 Star
5.3
Zach Jackson
Lincoln North Star


2012 1st Team All-City

LB 

6-0, 220
NR

NA 

NA 

Luke Gifford
Lincoln Southeast


2012 1st Team All-City

DB 

6-3, 190
NR

 NA

 NA

Makiah Slade
Lincoln Northeast


2012 1st Team All-City

DB 

6-0, 175
NR

NA 

NA