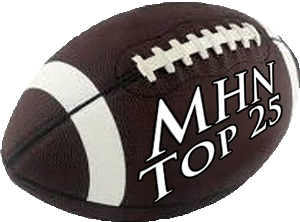 The Nebraska high school class of 2014 may not be the deepest class in my six years of evaluating talent in the state; however, this year's Top Ten does contain the highest number of—potential—impact players I've come across since our first official Top 25 Class in 2009.
Three of those talented players from the class of 2014 are already committed to the Huskers: the Lincoln Southeast duo D.J Foster (No. 1) and Luke Gifford (No.3) along with Gretna's Mick Stoltenberg (No. 4), while a fourth, Millard West's Harrison Phillips (No. 2) is still mulling over numerous offers from around the country.
The aforementioned players take up the first four slots in our preseason ranking, but by no means do those they cover the full potential of this class.
Omaha Burke's Trey Carr is going to be force at the college level, as long as he stays healthy and committed to the game. The MHN No. 5 prospect is the top all-around player (offense and defense) in this class. Not too many high school football players make me want to jump out of my seat when I watch them live or on film. But Carr does—he is a big-time hitter on D.
The Top Ten rounds out at No. 6 with a big-arm pro-style QB in Easton Stick (Creighton Prep). He already has a D-1A offer from Akron and is likely to pick up more; No. 7 Kenzo Cotton (Papillion-La Vista) with his world class speed and size holds three D-!A offers; Kenzo's teammate,  Jalen Allison, is a sleeper no more at No.8; Stick's magnet hands main target R.J. Urzendowski lands at No. 9 and big Lincoln Southwest O-lineman Mark Hruska claims the No. 10 spot.
The next major update to the MHN Class of 2014 Top 25 Nebraska H.S. Football Prospects rankings will be posted the fourth weekend of the 2013 season. You know there will be changes.
Good luck ballers. I can't wait to take in some of the live action this year.
 

1.

D.J. Foster, OL, 6-3, 312




Lincoln Southeast 

Rivals 3 Star 5.7; ESPN 4 Star 82


Offers: Nebraska (committed),  Florida, Georgia, UCLA, Iowa, Iowa State, Missouri, Vanderbilt, Wake Forest, Ohio

Foster ranks very high among the best looking Nebraska high school offensive guard prospects I have seen. The Husker recruit possesses the type of brute force I haven't seen from a Nebraska high school O-lineman since Omaha Burke's Ricky Henry. That former class of 2006 Bulldog went on to star for the Huskers. The "Notorious" D.J. Foster is an explosive, cat quick big man with the ability to pull effortlessly to the end of the line of scrimmage, or pounce out of his stance to get up on a LB in a hurry. And If this kid hits you and you don't go down, you will go backwards–way back! It's always difficult to gauge the potential of a high school lineman but Foster definitely has all the skills necessary to develop into a high quality guard for the Huskers. Currently, Rivals ranks him the No. 14 guard prospect in the country. Enough said.

 

2.

Harrison Phillips, DE, 6-3, 240


Millard West 

Rivals 3 Star 5.6; ESPN 3 Star 77


Offers: Stanford, UCLA, Nebraska, Kansas State, Ohio, Florida Atlantic, Northern Illinois, Army, Toledo, Illinois State,  Yale, Lehigh, South Dakota, South Dakota State, North Dakota, North Dakota State, Wisconsin, Pennsylvania, Princeton, Western Illinois, Harvard, Wyoming, Western Illinois

Phillips is the top defensive prospect in the class of 2014 Only Foster's raw explosiveness kept me from making Mr. Phillips my preseason No. 1. I'm not saying that Phillips isn't explosive— he is! Moreover, he plays the run as well as he rushes the QB, demonstrating good hand speed and placement in shedding blockers and knocking down passes. A well-coached DE with the kind of size, strength and football IQ that could see him earn early playing time in college.

 3.
Luke Gifford, SF, 6-3, 195


Lincoln Southeast 

Rivals 3 Star 5.6; ESPN 78


Offers Nebraska (committed) Iowa State, Ohio, Toledo, North Dakota

Gifford, an absolute field general at safety, has the giddy up to make plays from sideline to sideline. He takes good angles to the ball and gets there quickly and often with an attitude. He shows the type of enthusiasm and moxie that you want from a safety spot. Sprinkle in his size and smarts and you got the makings for something special down the road.

 

4.

Mick Stoltenberg, DE, 6-5, 250


Gretna 

Rivals 3 Star 5.7; ESPN 3 Star 75


Offers: Nebraska (committed) Army, Ohio, Tulsa,  Pennsylvania, North Dakota, South Dakota State, South Dakota, Northern Colorado,

Stoltenberg possess a long frame and good feet.  His strength, right now, lies in his pass rushing ability. He will have to improve his play at the line of scrimmage against the run if he is to hang with the big boys in college. Fortunately, his large frame will allow him to pack on plenty of good firm muscle to meet the task.

 5.
Trey Carr, DB, 5-10, 168


Omaha Burke

Rivals 3 Star 5.6; ESPN NA


Offers: South Dakota State (Committed) North Dakota, North Dakota State, South Dakota 

Are you kidding me? How does this kid not have a D-1A offer? The only answer has to be his grades and/or he is much smaller than his listed size, because this young man can really ball, baby. He has the speed (4.41 listed) and athleticism to be highly effective, at the next level, on either side of the ball. However, most college coaches are going to want this jaw-jarring big hitter to line up on defense at CB, where he seems to enjoy making opponents pay for daring to evade his space. I'm high on this kid!

 6.

Easton Stick, QB, 6-2,202
Creighton Prep


Rivals 3 Star 5.3; ESPN NA


Offers: Akron, North Dakota State, Northern Colorado, South Dakota. South Dakota State, North Dakota, SE Missouri State

An athletic pro-style QB with a big arm, Stick sets his feet well and throws to the short, mid or deep routes with accuracy. Under pressure, he moves nicely in the pocket while keeping his eyes downfield. If he has to, Stick can pull the ball down and run effectively. Besides Akron several other D-1A schools will be looking very closely at his senior year to determine whether or not to pull the trigger on Mr. Stick.

 

7.

Kenzo Cotton, ATH, 6-2, 190




 Papillion-La Vista




Rivals NA; ESPN NA


Offers: Wisconsin, Kansas State, Ohio

A world class Junior Olympian sprinter and Nebraska state record holder in the 100 and 200 meter, Cotton is the kind of prospect that some college coaches are willing to take a chance on developing, despite his limited exposure to the sport of football. Given the right college environment, his size, athletic maturity, commitment to excellence and pedigree (his father, Curtis Cotton, started at Nebraska and played in the NFL) bode well for him to excel in football at the college level.

 8.

Jalen Allison, WR/CB, 6-0, 170


 Papillion-La Vista




Rivals NA; ESPN NA


Offers: North Dakota State (committed)

This talented high-motor prospect truly knows how to play football when he is away from the ball. As a WR he is a great down field blocker who aggressively seeks to take out would-be tacklers. Allison also knows how to settle in space, create separation on a route and his athleticism gives him the ability to deliver from any skill spot on offense. His listed 4.53 speed and 37" vertical are also pluses, which is why I really like him as a WR in college: But the sticky Monarch is also a very good DB prospect, too. It will be interesting to see which position he ultimately plays at the next level. 

 

9.

R.J. Urzendowski, WR, 6-0, 184


Creighton Prep




Rivals 2 Star 5.3; ESPN NA


Offers: North Dakota State

Adept at finding the crease and gaining YAC, R.J. may also have the best hands in the class of 2014. He is a well-rounded WR who could yet see a D-1A offer with a big season in 2013.

10.

Mark Hruska, OL, 6-2, 337


Lincoln Southwest




Rivals 2 Star 5.3; ESPN NA


Offers: San Diego

 A big fiesty load, Hruska has the size and skills sets (quickness, good leverage and pad-level) to develop into a quality player at the college level, but he will need some fine tuning in order to deliver on those projections. Like I mentioned at the start, the OLs are the most difficult high school football prospects to project.

11.

Clay Fisher, DB, 6-2, 202, Millard North, Offers: NA 

12.

Austin Rose, RB, 6-0, 220, Lincoln North Star, Offers:

Campbell

13.

Anthony Vigneri, ATH, 5-11, 189, Omaha Gross Catholic, Offers: South Dakota

14.

Makiah Slade, DB, 6-1, 198, Lincoln Northeast, Offers: South Dakota State

15.

Blake Emsick, LB, 6-1, 205, Omaha Burke, Offers: North Dakota

16.

Skyler Monaghan, WR,  5-10, 160, Millard West, Offers: NA

17.

Layne Yates, RB, 5-9, 180, Omaha Westside, Offers: NA

18.

Alec Ditoro, QB, 6-0, 170, Papillion-La Vista, Offers: NA

19.

Matt Dietz, OL, 6-4, 300, Lincoln North Star, Offers

20.

Joshua Coyle, RB/SF, 5-11, 205 West Holt, Offers: NA

21.

Michael Emodi, LB, 6-4, 210, Creighton Prep, Offers: NA

22.

Tom Young, OL, 6-3, 275, Omaha Westside, Offers: NA

23.

Branden Vandervorst, OL, 6-2, 275, Millard North, Offers: NA

24.

Jake Paulsen, RB, 6-0, 170, Cozad, Offers: NA

25.

Zach Reeg, QB, 6-2, 190, Elkhorn South, Offers: NA