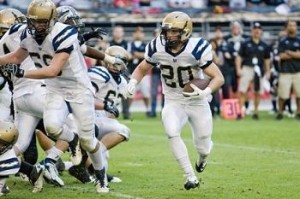 Congratulations to Jarek Hilgers for receiving his first D-1A offers from Air Force and San Diego State.
Back in February MHN featured the class of 2013 Arizona running back in a post titled 'Jarek Hilgers: Big Play Arizona RB Destined for Glory'. As many MHN followers know I also produce sports highlights videos through Hit Highlights.com. Accordingly, I see an awful lot of high school prospect film from around the county. So when I had the fortune of fine-tuning Hilgers' highlight video—I knew I was seeing something special.
I was so sure of Jarek Hilgers' talent that back in the February article I said point-blank:
'In fact I'm so confident of what my eyes have seen and what my gut is telling me that I believe not only will this superstud receive a D-1A offer(s), Hilgers will move on to become a successful feature back at the college level.'

Will Cummings on Jarek Hilgers 2-22-2012
Dr. Kyle Hilgers, Jarek's father, later thanked me for going out on the limb in making the above statement. I replied that I didn't go out on a limb—I just know what I know and that Jarek would likely be offered before his senior season.
Despite seeing limited playing time last year and running for less than 700 yards for the 2011 class 5A state champion Desert Vista Thunder, Jarek Hilgers talent and potential leaped off the video tape and made me—understand.
Keep tabs on this kid football fans.
Since posting this article, yesterday, Dr. Hilgers informed me that BYU and Yale have also offered Jarek.  The two of them have been very busy this spring and summer traveling to college camps and combines. Check this out—

Jarek increased his vertical from 38″ to 41.2"

at the May 19 Oakland, California Nike SPARQ Combine, where he nearly won top honors.
Dr. Hilgers said if Jarek would have performed a little better on the power ball toss—an event he had never done before—he "could have won it."  Jarek placed 6th overall out of the 1,117 offensive prospects tested with a SPARQ rating of 110.65. He earned  the No. 1 score for running backs (click to see Official 2012 Nike Oakland SPARQ Combine results).
To learn more about Jarek Hilgers click on the following link to visit his Home Page.
Related Link