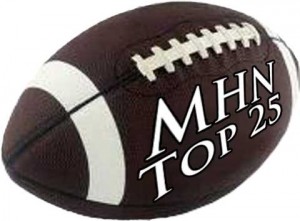 It's that time: The myHitNews.com Preseason Top 25 Nebraska High School Football Prospects—Class of 2013 rankings will be released during the weekend following July 4th.
In preparation, athletes, coaches, and fans are welcomed to submit their nominations to MHN by submitting the form provided below.
In the 'Class of 2013 Prospect Name and Information' section, please be sure to provide the athlete's: name, position, ht/wt, school and any college(s) showing interest: You are also encouraged to supply any other supporting reasons for consideration such as stats and/or athletic measures.
Thanks in advance for your participation.
Related Link:
MHN Class of 2013 Nebraska High School Football Prospect Board
[contact-form-7 id="18882″ title="Top 25 Football 2013″]
[contact-form subject="2012 Top 25 Football"] [contact-field label="Your Name" type="name" required="true" /] [contact-field label="Email" type="email" required="true" /] [contact-field label="Top 25 Athlete Nomination" type="textarea" required="true" /] [/contact-form]