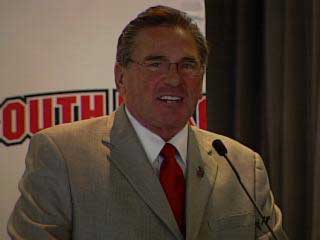 In a delightful follow-up to the previous MHN post 'Luke Worden: His Fast 40-Times Burn up Turfs at College Football Camps,' the Scottsbluff DB/RB prospect received his first offer from new South Dakota head football coach Joe Glenn.
Glenn, a Lincoln Nebraska native, replaces Ed Meierkort who was fired after eight seasons despite his Coyotes' 6-5 record in 2011. Reportedly, USD athletic director David Sayle felt a change needed to be made as the school moves out of the Great West Conference to begin play in the Missouri Valley Football Conference in 2012.
The 63-year-old Glenn returns to coaching after a three-year hiatus to take the helm at his alma mater where he played QB. During his impressive coaching career, Glenn won 3 national championships (2 Division II with Northern Colorado and 1 Division 1-AA at Montana). His last head coaching stint ended in 2008, after a six-year run at Division 1-A Wyoming.
Worden was very pleased about what Glenn had to say about the direction of the USD football program. Since more offers are likely to come Worden's way, I'm sure that Glenn being the first to offer will undoubtedly factor into his ultimate decision.