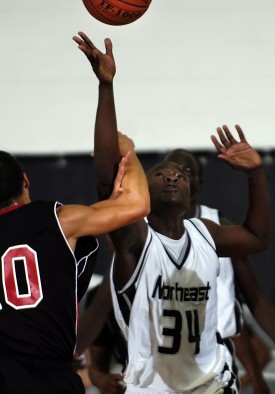 Out-State All-Star Dream Team Vs. All-Metro Dream Team: Which Team Comes Out On Top?
Vote Below
By Bobby Mills (1000ydguy)
Contributing Writer
myHitNews.com

   All right folks, Bobby Mills, in collaboration with several Out-State basketball coaches and pundits,  put together an Out-State All-Star Dream Team for myHitNews.com that's strong enough  to take on the All-Metro Dream Team—and beat them? 
    I do not know about  the Out-Staters beating the All-Metro Dream Team but it definitely would be an interesting contest to see as the Out-State team looks to be a little more physical and have more outside touch with their shooters.
   Perhaps the best reason to give the Out-State Dream Team the nod is their overall team  maturity. Eight seniors make up the First Five and Second Five Teams.  First Five juniors Trevor Menke from Beatrice and  Waverly's Tyler Evans were the only non-seniors to make the two starting rotations.
   The 6-foot-6 Dol Kutey and 6-foot-7 Jake Marvin would provide formidable inside presence against the Metro's Jerrell Crayton–-enough to neutralize him. Therefore, this game most likely would come down to the Out-Staters ability to knock down the outside shot and the Metro being able to finish on transition and to break down the zone defense that the Out-State team would have to deploy–because there is just too much quickness and athleticism  on the Metro  side for them to successfully man up against players like Burke's Adonis Hill, Stevelle Burns of Benson and Millard South's Vondrae Tostenson.
   The Out-State All-Star Dream Team is comprised of all schools in Nebraska outside of the Metro Conference in Omaha.  Lots of talent out here and the Junior class looks very strong. This Dream Team  unit is comprised of 2 Starting Fives and 5 Sub's for a total of a 15 man traveling squad.   I would certainly add that even the players not named to the "Starting Units" are without a doubt, very talented high school basketball players.
      The two Co-Head Coaches for the 2008/2009 Out-State Dream Team are Scotbluff's Tony Siske and Ron Micek from Grand Island Central Catholic.
myHitNews.com
2008/2009
Boys Basketball Out-State ALL-Star Dream Team
First Five
DOL KUTEY, 6-6, SR, LINCOLN NORTHEAST

Pretty salty inside guy, ask those who faced him.

JAKE MARVIN, 6-7, SR, LINCOLN SOUTHWEST

Led his team to the Finals…6-7 gem averaged 11.3/ppg, 9 Reb/Game, and
rejected over 65 shots.

TREVOR MENKE, 5-10, JR, BEATRICE

Has been a starter since Freshman season.  Can do it all, guard anybody, and is the money man when a clutch shot is needed.  Proven leader.

TAYLOR PRICE,  6-1, SR, LINCOLN SOUTHEAST

The guy that is "man" on both sides of the ball for the Knights. Never runs out of energy or desire.

TYLER EVANS, 6-2,  JR, WAVERLY
Scored just shy of 500 points this season and is the QB on the maple. Sweet touch and tough defensive player.

Second Five
ISIAH GANDY,  6-2, SR, BOYS TOWN

Been the mainstay of Tom Krehbiel's Offense the past two seasons. Drained over 500 points this year despite being heavily blanketed by the opposition. Sweet Stroke and great Hops.

TIM McDAVID,  6-1,  SR, SCOTTSBLUFF
Another 500 point scorer and can absolutely jump to the moon.  No longer a "best kept" secret, McDavid has the ability to play at the next level.

DREW STANKEY, 6-5, SR, LINCOLN EAST

No doubt, one of Lincoln Top 5 Players.  Excelled in many areas on both sides.

DENVER KLAUS, 6-3, SR, BENNINGTON

Just see him once and you KNOW this kid is a player.  Had a good teacher, and is adept in ALL areas on "O" or "D".  He could play on any All-Star squad.

JACOB WOSLAGER, 6-5, SR, PIERCE

Need an inside/outside man who can do it all?  Woslager is your guy WOW 'nuff said.
Subs
J

AKE HAMBURGER, 6-3, SR,

HASTINGS ST CECILIA 
Probably the leader of the multi-talented "Back-To-Back" Bluehawkers. He'll stuff you on "D", kill you with the three or drive and score. Well rounded player.
ZACH BARGEN, 6-5, JR, CHADRON
Another player with GREAT bloodlines.   Can play G or F and excel. Probably not the greatest idea to let him shoot the trey.  VERY athletic and has deceptive moves.
 AUSTIN KACZOR, 6-4, JR, EWING
Class D player can play with the best of  them.  Averaged almost 30/PPG and over that mark during the State Tournament……Will play at the next level. Inside or Outside, pick you poison here.
SPENCER FAHEY, 6-2, SR,

GRAND ISLAND CENTRAL CATHOLIC 




Don't let his looks fool you, he can burn you in a heartbeat.  Played injured his entire high school career and still shined….better than you think….by a ton

.
NICK REED, 6-4,  JR, SYRACUSE
Another outstanding Junior, Reed scored over 400 pts. And had over 80 steals this season to go with over 80 assists.  Plays a "little"defense too!
 Co-Head Coaches
Tony Siske, Scottsbluff and Rob Micek, Grand Island Central Catholic.
Vote
[poll id="2″]
Related Links: All-Metro Dream Team