[ditty_news_ticker id="20086″]
Latest on Nebraska H.S. Football Recruiting—Class of 2013
Millard North's consensus all-state LB
Nick Deluca
shuns D-1A offer from Ohio and commits to
two-time FCS National Champions North Dakota State.
Bryce Sheard

, a 6-foot-3, 186 lbs. WR from Papillion-La Vista, commits to Northwest Missouri State. Sheard is ranked No.13 on MHN's End of the-Season Top 25 Nebraska High School Football Prospects for the class of 2013. Click the link to see

Nebraska H.S Class of 2013 Offers and Commitments.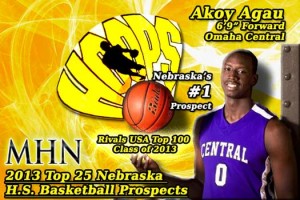 MHN will release the 2012-2013 Midseason Top 25 Nebraska H.S. Boys Basketball Prospects ranking on Thursday, January 31.
The current Preseason Top 25 ranking reflects the college interest generated by the prospects, their anticipated development and their 2011-2012 season all-star team selection(s).
The Midseason ranking attempts to reflect (1) How the Preseason Top 25 performed thus far in the 2012-2013 season relative to their ranking and (2) To recognize emerging players that are or could become legitimate college prospects.
MHN Wants to Hear From You
Based on the criteria listed above, fans are encouraged to offer nomination(s) for the MHN 2012-2013 Midseason Top 25 Nebraska H.S. Boys Basketball Prospects by providing the player(s) name, school, height, position, grade year and any stats and/or reason(s) for your nomination(s).
Encourage Your Friends to Send Nominations
Send the link to this page to your Facebook, Twitter and/or email  account by clicking on its corresponding button located at the bottom of this post.
Please submit your nomination by entering the requested information into the email form that appears below.
[contact-form][contact-field label='Your Name' type='name' required='1'/][contact-field label='Your Email' type='email' required='1'/][contact-field label='Top 25 Nomination' type='textarea' required='1'/][/contact-form]
Related Links
Omaha World-Herald Class A & B Nebraska prep boys basketball statistical leaders, Jan. 18
MHN 2012-2013 Peseason Top 25 Nebraska H.S. Boys Basketball Prospects