Does Bo Really Know Or Is He Merely Following An Osborne Plan?

By Will Cummings
myHitnews.com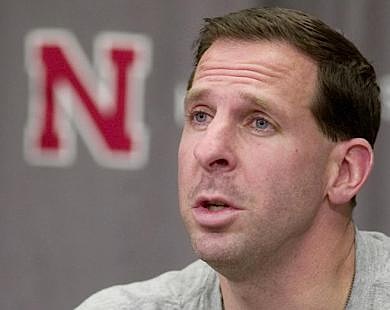 The miserly total of only two class of 2009 Nebraska high school football players that signed with the Huskers, on February 4th, represented the lowest number in "memory" to comprise a Nebraska University football signing day class, according to Omaha World-Herald research.
   So what's going on?  Well, many would simply say that this year's Nebraska high school class was weak on D-1 talent.  There is some merit to that argument, but not enough to account for only two Huskers signees from a class that produced five other D-1 signees.
Bo Pelini's Long-Term Recruiting Strategy
   No. In my opinion, the answer for this embarrassingly low number of Nebraska high school signees has to do with Bo Pelini gambling on a long-term recruiting strategy that may pay huge dividends, or it may just blow up in his face as the result of unforeseen circumstances and definite undercurrents that he and his staff  may have failed to consider.
   There is no denying that the geographical constraints of a low state population base necessitates the Huskers having to obtain the majority of their talent outside of Nebraska. But how does a university football program go about accomplishing this delicate task and still maintain harmony on its team and within the state populace (namely, high school prospects and their parents, and high school programs), while putting the university in position to win championships?
   The whole premise of Pelini's  long-term recruiting strategy—a premise I wholeheartedly agree with–is based on trying to find the right "mix" of players to make up the total roster: A mix that will enable the Huskers to achieve championships. It took Dr. Tom Osborne nearly two decades to find the mix that enabled the Huskers to field what is arguably the greatest dynasty in college football history during the '90's. 
  Today,  Pelini, under the tutelage and apparent direction of Osborne, looks to recapture some of that past glory by implementing a recruiting strategy ostensibly designed by Dr. T. O., who last coached over a decade ago.
The Holy Grail
   Finding the right mix of players and staff that make up a championship program is the Holy Grail of coaching. The makeup of that transient mix is unique to every school based on a number of circumstances from location to the type of offensive and defensive systems they run. However, based on the words of this NU staff and their first full recruiting cycle, we now have a good idea of what the Pelini mix is and how NU plans to achieve it:
   On February 7, 2008, an Omaha World-Herald article written by staff writer Nick Rubek attributed the following statements to Husker coach Barney Cotton:
"Cotton said ideally the staff would like to have two-thirds of the roster be Nebraska kids. He also said the staff does not plan to sign a full class of scholarship players every year like it did Wednesday [referring to last year's 25 signees] . In the past, some scholarships would be made available to former walk-ons who had proven themselves in the program."
       Barney Cotton
   Now remember the above statement by Cotton was made over a year ago. Now read a very important follow up quote attributed to Cotton from the same article:
When did you ever see Nebraska sign 25 guys in a recruiting class?" Cotton said. "We knew we'd sign a full class this year. Our goal down the road is to never sign a full class. Coach Osborne helped show us the blueprint for that thing."
       Barney Cotton
   Osborne—the master planner–perhaps the greatest college coach of all times–showed Pelini and staff a "blueprint for that thing" on how to find the Holy Grail. And by God they are sticking to it!
  This year—true to Cotton's statement and Osborne's vision—the Huskers signed only 20 players.
   Yes!  The Huskers could have easily signed a couple more Nebraska kids in this class, but like Pelini says the Huskers are "not going to take guys just to take guys."
   Of course not, Bo. Evermore so, when you stick to a script and a "blueprint" fashioned by your mentor Dr. T. O.
There's a lot of players out there, You've got to go where the players are…"
       Bo Pelini
To California and Texas for the Real Players
   California and Texas are the places the Huskers intend to mine the majority of their gold for the foreseeable future. They picked up six and eight signees respectively this year from those two states (that's 14 out of 20 signees from two states, for those of you keeping count.) Unfortunately, those kids from California, Texas and the rest of them foreign states don't know much about work ethic and the Great Husker Way.
The following excerpt and Bo Pelini quote is from a February 7, 2008 OWH  Nick Rubek article explaining the essence of  Nebraska's  walk-on theory:
Pelini talked about conversations  he had with  Osborne about surrounding out-of-state players with others such as Grixby [Courtney] from Nebraska to help them understand the importance of Husker football:
 When you're surrounded with them [Nebraska kids]," Pelini  said, "that type of kid who grew up living and dying with  whether Nebraska won or lost, they became that much more committed to the program because they were surrounded with people who had an extreme level of commitment.

You have to be playing for the University of Nebraska." 
       Bo Pelini
   So the great Osborne fabricated Holy Grail is designed to bring onto the NU Plantation as many Texas and California scholarship boys as possible and surround them with a bunch of proud hard-nosed Nebraska high school walk-ons who can instill in them the meaning of being a Husker.
    Well, that may have been all well and good for the Tom Osborne era, but we are approaching the second decade of the twenty-first century and a lot has changed since the Nebraska sidelines were last graced with the presence of  Head Coach Tom Osborne—who by the way, never ignored the talent in his home state to the extent that his protege, Pelini, has shown in his first year.
 A Different Generation
   This present generation of Nebraska high schoolers have memories of a once great program smitten by the failings and eventual firing of Osborne's hand-picked successor, Frank Solich, and the ugly debacle of the Peterson/Callahan era. At the same time, this generation has seen conference programs that used to be routinely dominated by Nebraska, beat the Huskers—and beat them soundly.   A once proud program, perennially one of the top two teams in the Big Eight Conference, now finds it hard to be even considered among the top five in the Big XII Conference.
   There is no longer anything intrinsically better at Nebraska than almost any other school in its conference: Nebraska is more than a decade away from any meaningful championships, their vaunted weightlifting, nutrition and conditioning program of the '70's and '80's and early '90's has long been duplicated and bettered throughout the country and Nebraska's facilities are barely middle of the pack in their own conference.
    The above helps to explain why kids like Trevor Robinson and Tim Biere and Shaun Prater (all of whom played significant D-1 ball as freshman) can easily turn down a Husker offer and why other D-1A and D-1AA programs are beginning to realize that Nebraska kids are no longer locked on like zombies  to become  Huskers.  Out-of-state programs are willing–more now than ever– to come in here and compete for Nebraska's top high school players. Now throw into this brew our recent economic downturn, and it truly becomes a hardship to walk-on at Nebraska if another school–at any level–is offering you a full ride.
 How Long Will Pelini Hold On To The Blueprint?
   Still, Pelini and company are betting on a "blueprint" in which they can offer less up front opportunity to Nebraska kids via scholarship offers, and rely more on a back door hook of enticing Nebraska kids to walk-on to earn scholarships–all under the guise of re-establishing the walk-on tradition.
The ratio of Nebraska walk-ons to actually receive scholarships is a number I don't known, but I would bet that it is not much better than about 1 out of 10—that is a huge risk to take if you don't have to!
      Will Cummings
   Looking back on Husker history, the one thing that remains constant is that every conference championship and every national title the Huskers have ever won came on the backs of a lot of former Nebraska high school players. The players that this current staff has demonstrated in word and in deed it is willing to shortchange upfront in their pursuit of regaining Husker glory.
   Yea, on the whole I agree with Pelini that "you don't give scholarships just to give scholarships." Nonetheless, "You don't hold back scholarships to instate kids just because you can." Just two instate scholarships in any year is not a good look for a program that claims to be reaching out to Nebraska high schools.  
   This University can't afford to lose that Constant Force which is found in the training rooms and gridiorons of  Nebraska high schools. Sadly, that Constant started to erode well before Pelini became head coach, but he has done nothing yet to stem the tide. 
   In Pelini and his staff"s favor, they delivered a solid first season—played a lot of former Nebraska high schoolers too. And right now—on the surface–everything really seems to look promising for the future–just like it did after Bill Callahan's first season.
   The undercurrent, or the fly in this here particular ointment will be that mix and how it is being applied and if in the end it will produce the desired results.
   It will be interesting to see how the Pelini mix comes together on the campus and on the field next season and if they continue to follow their instate recruiting blueprint.
   If  things don't pan out, it has been proven in recent Nebraska coaching history that sentiment can change mighty rapidly around these here parts. 
    One thing for sure is that Pelini has lit a fuse:  It's a new dawn for Nebraska high school football prospects.