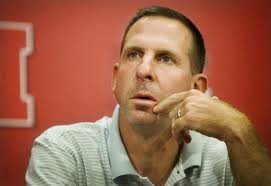 Blowing hard through Husker Nation are the winds of change: Nebraska leaves the Big 12 and now sources say head coach Bo Pelini may be looking for greener pastures or shall I say the graceful palms trees of Miami.
According to my sources, Nebraska Athletic Director Dr. Tom Osborne recently gave Pelini permission to speak to the Hurricanes about the coaching vacancy created when they fired Randy Shannon two weeks ago. Pelini has only been at Nebraska for two years and if the rumors are true—he is already seeking other opportunities.
This of course could all just be in line with the nature of big business college football these days, but it may also have to do with what's been going down with the Husker football program during the past two weeks.
We all know, by now, about the Bo Pelini Tirade at Texas A&M and the Huskers recent loss to Oklahoma in the Big 12 Championship game.  Those are hard things for any coach or team to swallow, but there is also a strong undercurrent of disillusionment cutting its way through the team as a result of what went down with Taylor Martinez during and immediately after the Texas A&M game and in the Big 12 title game.
A lot of unsettled business, a lot of questions and for some–a lot or respect has been lost. But those are stories for another day. Right now I will simply close by saying,
"It's not a fun time to be a Husker."