Part 1 of a 3 part series: Bo Pelini Unleashed
Bo Pelini's Career Record is Worse than Fired Former NU Coach Frank Solich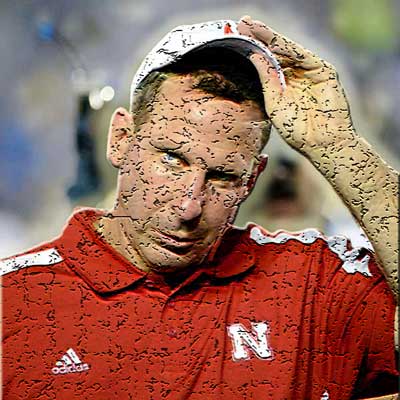 To summarize Bo Pelini's five-year run at Nebraska—the head coach has been out-recruited and outcoached; the combination thereof has resulted, for the most part, in his teams being outplayed in big games against quality opponents. If the trends continue Pelini could simply be—OUT—at NU.
In his five years Pelini has contributed rather handsomely to the Nebraska football program's string of 14 straight seasons without adding a single conference championship title to its aged yet still impressive trophy case. In addition, Pelini's teams have not appeared in a single BCS bowl game. His career record at Nebraska stands at 49 wins and 20 losses, including losses in two Big 12 conference championships and this past season's blowout loss to Wisconsin in the Big Ten Conference Championship.
Pelini started out strong at NU, recording a 9-4 record in his 2008 rookie season. He followed that up in 2009 with a 10-4 record that included a Big 12 Conference Championship Game loss against Texas. After winning his first two bowl appearances as NU's head coach (not counting the 2003 Alamo Bowl victory he earned as an interim head coach) Pelini's teams have suffered losses three consecutive bowl games.  
A very strong argument could be made that Pelini's early success at NU was due in large part to the talent recruited to Lincoln by his predecessor Bill Callahan (2004-2007). But I'll have more on that later.
Three 10-win seasons and two nine-win season in five years may look palatable on a head coach's resume.  Yet I'm one to believe that—any average-quality college (or pro) football coach—can walk on the NU campus, with its tradition-rich football program and esteemed athletic facilities, and consistently deliver 9 or 10 win seasons.
But how much longer will the Husker Nation tolerate just having an average joe as a head coach of one of the most storied college football programs in the nation?
In only his second season as Nebraska's head coach Frank Solich (1998-2003) guided the Huskers to a 12-1 record and a Big 12 Championship Game victory over NU arch nemesis Texas.  That No. 3 ranked '99 team went on to beat No. 5 Tennessee (31-21) in a BCS game at the 2000 Tostitos Fiesta Bowl.  
Solich's '99 team was the last Nebraska Cornhusker team to beat Texas and the last to win a conference championship. His 2001 Nebraska team turned in an 11-1 regular season record and was the last Huskers team to play in a BCS National Championship game: the No.2 ranked  Nebraska team lost 14-37 to No. 1 Miami in the 2002 Rose Bowl.
Frank Solich, who beat Texas to win  the 1999 Big 12 Championship and led his 2001 team to the 2002 BCS National Championship Game, was fired in 2003—after posting a 9-3 regular season record.
Bo Pelini vs. Frank Solich

Career Records

Bo Pelini

(2008-Present)

Frank Solich (1998-2003)

5 Seasons: 49 Wins 20 Losses
6 Seasons: 58 wins 19 Losses
Win/Loss Percentage: .710
Win Loss Percentage: .753
Conference Titles Won: 0
Conference Titles Won: 1
BCS Bowl Game Appearances: 0
BCS Bowl Game Appearances: 2
National Title Game Appearances: 0
National Title Game Appearances: 1
Total Bowl Victories: 21
Total Bowl Victories: 2

 2. Not counting 2003 Bowl win as 1 game interim coach when Pelini replaced fired head coach Frank Solich.
Before Pelini arrived at Nebraska the fans wouldn't tolerate a coach going more than a couple of years without a conference title. So have the once proud Nebraska fans learned to—settle on mediocrity?  
Obviously they have.
Looking back to the year 2007, in my opinion, If NU's interim athletic director Tom Osborne hires a topflight and proven head coach—at the very bare bones minimum—today, Nebraska fans would have been treated to at least one conference title and a BCS bowl game appearance.
So what went wrong?
Next time on Part 2 of Bo Pelini Unleashed: "The Flaw that Still Haunts"
(will there be a season seven for Bo at Nebraska?)