Two-time First Team All-Nebraska Football Player Quentin Urban Is Rare Breed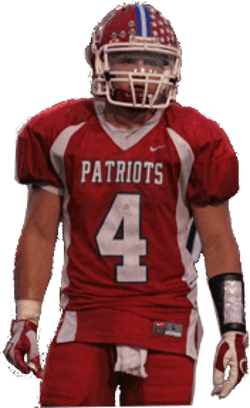 Nowadays, you ask any high school coach and they will tell you that they don't like playing their kids both ways, on offense and defense, because of player fatigue. They say a kid can't give 100% effort on every play when he plays both sides of the ball—he will give up something on one side or the other or both.  And they're right! But there are always exceptions to the rule—Quentin Urban happens to be one of those exceptions.
Quentin Urban 2010 Stats

Offense

Defense

83 Rushes 569 yds 11 TDs
20 Receptions 304 yds 4 TDs
117 yds passing 3 TDs
101 Tackles 14 for loss
(67 solo 37 assist)
3 Blocked Punts
1 Fumble Recovery
I have witnessed very few high school football players that can play both ways with such a high degree of focus, intensity and execution as Urban. Gifted with outstanding body control, quickness, vision and toughness, he can effectively play any skill position on the field, and he has: QB, WR, RB, LB and DB.  Because of his abilities and skill sets it really makes it tough on recruiters to figure out what position he will ultimately play at the next level.
Quentin's father, Tony Urban, says his son currently has several D-1AA offers on the table and is getting strong looks from a couple of MAC schools and Iowa is also still in the mix. "The D-1A schools are all telling him that he is not the No.1 player on their board, but he's near the top. A final decision will not come until they know if they will land those other players ahead of him," Tony said.  The schools are looking at him as a LB, SF, and RB/all-purpose back.
I don't know where Quentin will end up, but I do know this "Quentin Urban has huge upside as a college football player."  I mention this because besides a prospect's measures and ability to play football, one of the key factors in gauging potential is trying to determine whether or not an athlete has reached his peak performance in high school. Can the prospect improve his performance while competing against the best at the next level?
There is no doubt in my mind that Quentin Urban is far from reaching his peak as an athlete. Limited by time and focus, he has yet to begin developing his body in the weight room.  As an honorbale mentioned all-state basketball baseball player, you won't find Urban spending a lot of time in the weight room trying to bulk-up. That's not a good thing for basketball and baseball players. Consequently, he has enormous potential for growth in the area of physical development. In college he won't have to worry about basketball and baseball; therefore, the 5-11, 195-pounder will have plenty of time and motivation to delve full bore into the weights and conditioning programs.
Urban is already armed with an extremely high football IQ, great quickness and agility–he runs a 4.03 shuttle and 4.51 forty and has a 35″ vertical. When you combine his speed with his fleetness and outstanding body control — he has all the tools necessary to do some serious damage at any level. Now put this kid–with all his natural talent, competitiveness and toughness–into a good conditioning program and he is going to become one fine college football player. No doubt!
Quentin Urban YouTube Highlight Video-Senior Year
Courtesy of Hit Highlights.com in HD.
httpvh://www.youtube.com/watch?v=5m_mptODKXQ&feature=player_embedded