Former UNO Football Player Yano Jones Establishes An Outstanding One-Of-A-Kind Off-Season Football Program
By Will Cummings
myHitnews.com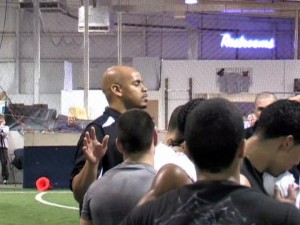 The Redzone Leadership Academy's Off Season Mentoring and Football Training Program is billed in their website literature as being "…the first and only mentor/training program in the country." And after my recent visit to a Redzone training session, let's hope that Omaha can keep this program unique to our area for a little while longer. Because the Redzone Leadership Academy is truly an exceptional concept that is being implemented in extraordinary fashion, helping to give its participants a definite edge in competing for scholarships.
   The Redzone Leadership Academy is the brainchild of former University of Nebraska at Omaha (UNO) standout football player Yano Jones, who also played with the Omaha Beef and Iowa Blackhawks arena football teams, and currently holds the position of Assistant Director of Recruitment Services at UNO.
   Jones' athletic and academic experiences helped to formulate his belief that if youths had a better overall concept and understanding of what it takes to play at the college level, they would stand a greater chance of realizing their dreams. Consequently, Jones and some of his college and professional buddies took this core belief and fashioned a program that would best exemplify the conviction.
    Jones and his fellow "mentors," as Redzone refers to its coaches and instructors, encourage participants to:
Be leaders on and off the field,

Achieve academic excellence,

Engage in community service,

Understand the training and development expectations of college coaches.
   The Off Season Mentoring and Football Training Program meets twice a week (Mon, Wed) from 7:45 pm – 10:00 pm at the Going Vertical facility located in Omaha at 10700 Sapp Brothers Dr.
How They Maximize Time At Redzone
   The first hour of the session is spent in study hall where participants complete homework assignments and receive tutoring assistance, and the last hour is spent in one of the most impressive and efficient training sessions of its kind.  I am here to tell you "these  are well organized intense football specific drills targeted to increase overall speed, quickness and explosiveness."  
   The highly enthusiastic and vocal mentors are focused solely on maximizing the limited amount of time to get the most out of each player in every drill–running five to six different drills simultaneously and moving position organized groups from one station to the next like clock work.
Redzone
Leadership Academy
Mentors
Yano Jones Founder/Director

Jon Arrington, Mentor

Daniel Riggles, Mentor

Hank Deboer, Mentor

Desmond Wilford, Mentor
Elija Simmons, Mentor
  Overcoming Obstacles
    Jones' only barrier thus far seems to be that some area high school coaches are a little leery of his program, believing it may be teaching technique contrary to theirs. Most high school football coaches–understandably–want to have complete control over their athletes. But let me tell you something, after witnessing this program up close and personal, there is no time to teach technique at these sessions– it's all about speed agility and explosiveness. To put it to you more succinctly:
After witnessing a Redzone training session, if I were a high school coach—I would without hesitation encourage my players to participate in the Redzone Leadership Academy,  because I know that through their participation at Redzone, they will become better athletes for sure, and perhaps even finer citizens as well"
       Will Cummings
Besides, during the off season, the  Nebraska Schools Activity Association rules prohibits high school coaches from engaging in practically any form of off season training. So during this time, why wouldn't a coach encourge  players to seek outside opportunities to improve their on field performances?
   It's no wonder that as Jones explains,
College coaches love what we are doing. They like to see prospects they are recruiting participate in our program."
     Yano Jones
Redzone's  Notable Alumni
   The Redzone Leadership Academy has only been in existence for less than three years, but they can boast of a number of notable D-1 players from the area who are alumni of the program: Niles Paul, Collins Okafor, Tim Biere, Sean and Shaun Prater, Harlan Gunn, Phillip Bates and Colt Anderson to name a few.
   If all this isn't enough to convince you that this is one heck of a program, Jones mentioned that he has been instrumental in getting scholarships for a couple of kids who may otherwise have been overlooked.  "…The program is also about establishing a network among college coaches… I played ball in this area and have college contacts with various coaches throughout the region…all of  whom are very supportive of  our program.  I often get calls from scouts inquiring about players in the area," Jones said.
   Do not get the impression that the program only focuses on high school football players, because kids as young as five years old are allowed to participate. There were a number of young grade school students that were present at the session I attended and they worked just as hard as the older participants. In this highly competitive sports environment its never too early to get started and if playing football in college is your dream there is no better place outside of your football program to get that extra edge than at the Redzone Leadership Academy.
   You can find out more about the Redzone Leadership Academy by visiting their web site at http://www.redzoneacademy.org/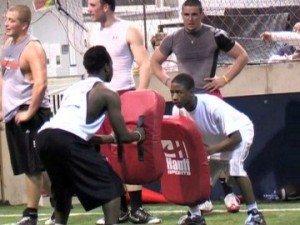 I took my camcorder on my visit to Redzone Leadership Academy so that you can get a peek into one of their training session.  Below you can watch some top area high school football players–one of who is the fastest Nebraska high school player in the class of 2009–trying to get that edge: