Warning
: Undefined array key "file" in
/home/hithighl/public_html/myhitnews/wp-includes/media.php
on line
1657
Warning
: Undefined array key "file" in
/home/hithighl/public_html/myhitnews/wp-includes/media.php
on line
1712
Warning
: Undefined array key "file" in
/home/hithighl/public_html/myhitnews/wp-includes/media.php
on line
1657
Juniors and Sophomores Dominate Roster
By Will Cummings
myHitNews.com

   As myHitNews.com rapidly approaches its first year anniversary in April, we take pride in releasing our first all-star team in any sport with the introduction of our 2008/2009 Boys All-Metro Basketball Team—comprised of players from the Omaha Metro Conference schools.
   We took a little different approach in picking this All-Metro Team: Instead of picking the traditional first team, second team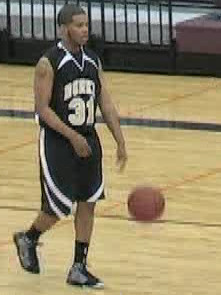 and honorable mention, we decided to put together a team of the top twelve Metro Conference high school players that would give us our best shot at traveling to any location in the country and beating any Metro area all-star team we encounter. Thus making our All-Metro Team more of a Dream Team than your traditional garden variety all-star team selections.
    The Omaha Metro Conference looks to turn up the heat over the next two seasons with players like Burke guard Adonis Hill (left) one of two talented sophomores to make the All-Metro Travel Roster, along with seven juniors and two more sophs making the Ready Reserves. 

Based on our mythical team's goal of beating all comers and the talent pool of Omaha Metro Conference players we have at our disposal, we quickly decided our best shot would be selecting players that are able to run the floor, handle the ball very well and play pressure man-up defense. Because that aggressive run, penetrate, and break-them-down offensive style and swarming don't-give-them-room-to-breathe defensive pressure will give us our best chance against top flight competition.
   This is a very talented but young team with only three seniors Jarrell Crayton, Steville Burns and Vondrae Tostenson making our Travel Roster and two others, Alex Hook and Paul Simms, selected for our Ready Reserves, while two sophomores, DK Augustine and Adonis Hill made the Travel Roster and sophomores Galen Gullie and Charles Carter round out the Ready Reserves. The rest of the Traveling Roster is comprised of seven juniors. Of course, this is good news for the future of Metro basketball–the next couple of years promises to bring some outstanding play with this bunch leading the way.
   The Head Coach is Millard North's "basketball 24/7" Chip Bahe and the Assistant Coach is Omaha Central's Herb "Mr.Basketball" Welling.  Give these coaches and players a couple weeks together ane we believe they could compete with anyone.


myHitNews.com
2008/2009 Boys All-Metro Basketball Team
Travel Roster
.Jarrell Crayton, SR (6-7), C, Bellevue East


A

D-1 beast of a player that eats up anything inside 15 feet

.
Vondrae Tostenson, SR (6-5), PF, Millard South

A freak who is simply unstoppable when he comes to play.
Steville Burns, SR (6-0), PG, Omaha Benson

Perhaps the best lock down defensive player in the state.
Deverell Biggs, JR (6-1), PF/SG, Omaha Central

May be the most athletic and versitile little big man in the state.
Ben Imig, JR (6-0), G, Omaha Bryan

very good ball handler and sees the court well.
 Mike Dentlinger, JR (6-6), P, Millard North


A forceful post man who is very underrated

.
Caleb Steffensmeir, JR (6-0), G, Creighton Prep

Top ball handler who rarely turns it over to the opposing team.
Ray McGaugh, JR (6-0), G, Omaha Burke

State's best scorer and great penetrating finisher with left or right hand.
Scottie Davis, JR (6-5), F, Omaha Burke
Very efficient and flexible all-around player who can do it all.
Chris Cofield, JR (6-1), G, Omaha North
Often overlooked, he is steadily becoming one of the state's top shooters.
Adonis Hill, SO (5-10), G, Omaha Burke
Pure point man with ridiculously quick first step and ability to penetrate and see the open man.
DK Augustine, SO (6-4), P, Omaha Bryan
He may be young but already one of the strongest post players in the state.
Ready Reserves
Alex Hook, SR (6-2), G, Creighton Prep
Paul Simms, SR (6-2), F, Omaha Central
Galen Gullie, SO (5-8), G, Omaha Bryan
CJ Carter, SO (5-11), G, Omaha Benson
Head Coach: Chip Bahe, Millard North
Assistant Coach: Herb Welling, Omaha Central

SALE
Save 25% On A
Sports Highlight
Video.
For details visit
www.hithighlights.com
Sale Ends March 22, 2009