Southwest's Devin Douglas-Wiley Comes Up Huge In Crunch Time

By Will Cummings
myHitNews.com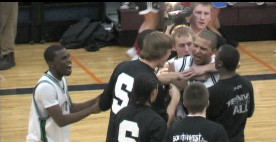 Lincoln Silver Hawks' number 30, Devin Douglas-Wiley, will be an image that will haunt the Burke Bulldogs basketball team for a long time.
   The fourth quarter and overtime, saw the big, muscular 6-foot-five post player produce a total of 13 points, which included the two free throws that sent the game into overtime and the winning overtime bucket—with just two seconds left–that broke a 65-65 tie. Fouled on the play, Douglas-Wiley coolly sank the free throw that provided the game's final 68-65 score.
     It truly took a gutsy Herculean effort by the state's No. 1 team to prevail in this contest, as Burke appeared to be the better team for much of the contest.
   The Bulldogs took control of the game midway through the second quarter with a tenacious full-court pressing defense and strong offensive performances from Ray McGaugh, a game-high 25 points, and Devon Simonds who added 19 tallies of his own. McGaugh, Simonds and Adoinis Hill were able to penetrate the Silver Hawks defense at will for layup baskets or to dish off assists. All of which contributed to them going to the locker room with an 11 point lead.
   However, any hopes of a Bulldog route quickly vanished in the opening minutes of the second half as the Silver Hawks went on a 8-0 run. From that moment on– it was "game on!" And what an entertaining game it was!
   Omaha Burke coach Kenyon Sharp and Lincoln Southwest coach Duane Baack could have asked nothing more out of their players. Both squads showed no sign of quit and both continuously bounced right back after adverse circumstances.
In a sporting contest, all I demand as a fan is that both teams show up prepared, ready to play and give their best throughout. Both of these teams gave me much more than I bargained for."
    It is sad that the season had to come to an end for this very talented and scrappy bunch of kids from Omaha Burke—their style of play would have been fun to watch in the state tournament. There is no doubt that Burke Basketball under Kenyon Sharp is no longer a program on the rise: It is a program that has arrived and is ready to take the next step—state tournament play.
   Finally, the Lincoln Southwest Silver Hawks have won seventeen straight for a reason: they're good! The Silver Hawks have the talent and a will power that you can feel! And that–will–may be what keeps them undefeated the rest of the way.
Other Notables: Burke's 2008 sophomore QB sensation, Jimmie Forsythe , was a valuable contributor in the game, as well as fellow football teammate, senior Nate Anderson.

Check out The Play Of The Game below:
httpvh://www.youtube.com/watch?v=5tR-rACrr_Q
More game highlights will be posted later this week.