Latest News on Nebraska High School  Football College Offers and Commitments for Class of 2013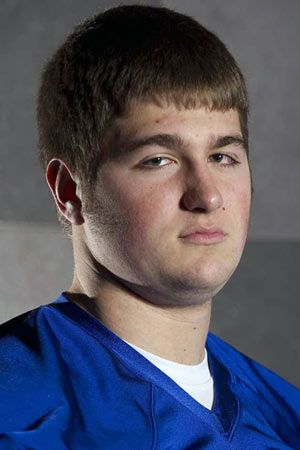 Lee Carhart, a 6-5, 275 lbs. O-lineman out of Creighton Prep, recently committed to the University of Northern Iowa. 
In 2012 Carhart was a consensus first team all-state selection for the Junior Jays, grabbing  the honor from  both the Omaha World-Herald's  All-Nebraska and the Lincoln Journal Star's Super-State football teams.
The UNI Panthers have consistently been ranked among top FCS football programs in the country ever since they began competing in the Missouri Valley conference back n 1985.  In that time span UNI has won a remarkalble15 Missouri Valley Conference championships. However, the Panthers uncharacteristically took a step backwards in 2012 by only posting a 5-6 record. It was the Panthers first losing season since 1982. 
Although I know the the Panthers recruit Nebraska, for some odd reason it's rare —and unfortunate—that they actually land one. I mean UNI is really a top-notch football program that always seems to compete well against the supposedly superior FBS schools.
Carhart looks to be a strong pickup for the Panthers program: He's:an agile big man with a long frame—capable of playing at every position across the O-line. If he stays healthy and progresses as expected, Carhart has the base frame and skills to develop into at least an all-conference-type lineman for the Panthers.
Nebraska High School Football
Class of 2013
College Offers & Commitments

Prospect Name, Ht, Wt, Pos(s)




High School

Known Offers

Commitment

NCAA FBS (Division 1A)

Josh Banderas, 6-2, 220, LB
Lincoln Southwest

Nebraska, Iowa, Iowa State, Kansas State, Oregon, Tulsa, Vanderbilt

Nebraska
Christian Lacouture, 6-5, 270, DE
Lincoln Southwest

Nebraska, Alabama, Auburn, Baylor, LSU, Michigan, Missouri, Oklahoma St., Texas, Texas A&M, Texas Tech, Utah

LSU
Casey Sayles, 6-5, 265, TE/DE
Omaha North

Bowling Green, Ohio, South Dakota

Ohio
Nathan Bazata, 6-3, 245, OG/DT
Howells

Iowa, South Dakota State

Iowa
Nick Deluca, 6-3, 220, LB
Milliard North

Ohio, North Dakota, South Dakota, South Dakota State

Jake Schlager, 6-1, 190, DB
McCook

North Dakota State, SE Missouri State, South Dakota, South Dakota State

Colorado State

Michael Minter, 6-1, 180
Lincoln North Star

Purdue, South Carolina (offers before senior season and not likely to stand)

NCAA FCS (Division 1AA)
Tyler Wrice, 5-9, 175, ATH
Papillion-La Vista

North Dakota State, University of Northern Iowa, Illinois State

North Dakota State
Vinny Ross, 6-5, 265, OL
Perkins County

North Dakota

Colin Mertlic, 6-2, 190, ATH
Blair

South Dakota

South Dakota
Luke Worden, 5-9, 170, ATH
Scottsbluff

South Dakota

South Dakota

Lee Carhart, 6-5, 275, OL




Omaha Creighton Prep

University of Northern Iowa

 

University of Northern Iowa

NCAA Division II

NAIA

Junior College
Offer(s)/Commitment Email Form
[contact-form][contact-field label='Name' type='name' required='1'/][contact-field label='Email' type='email' required='1'/][contact-field label='Enter Prospect Information' type='textarea' required='1'/][/contact-form]
Related Links
2012 All-Nebraska & Super-State State Football Teams
2012 All-Metro, All-City, All-Area Football Teams
MHN Class of 2013 NE H.S. Football Prospects Board
Helpful Links
2013-2014 College Football Head Coach Changes—NCAA FBS
2012-2013 NCAA Football Recruiting Calendar
NCAA FBS College Football Contact Info: Address, email, phone, fax