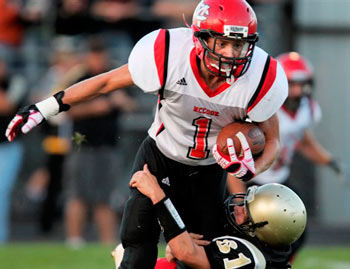 Belated congratulations to Jake Schlager. On the 19th of December, the 6-foot-1-inch, 195 lbs. versatile athlete from southwestern Nebraska's McCook High School accepted an offer from D-1A Colorado State University.
In 2012 Schlager earned Omaha World-Herald 1st team All-Nebraska football honors as a defensive back and is currently Rivals.com and MHN's seventh ranked player in the state of Nebraska for the class of 2013.
When I first saw Jake Schlager's junior highlight film—there was no doubt in my mind that this kid could play D-1A ball. He is a very dynamic football player capable of excelling in college at a skill position on either side of the ball. I'm happy for him that at least one FBS program has given him a shot.
Of course Bo Pelini wanted Schlager to walk-on at Nebraska—ugh! So another good one gets away. Nice!
Here is the note I wrote about Schlager for MHN's Top 25 Nebraska Football Prospects for the Class of 2013:
"A projected SF at the next level, Schlager shows impressive athleticism, tremendous quickness, and the speed (4.46) necessary to successfully execute a blitz or to make his way to the ball whether it's a runner carrying it or it's coming via the pass. Also illustrates toughness and a strong football IQ—a surprisingly gifted athlete that I suspect is high up on the list of safety prospects at several D-1A programs. A strong senior season could make at least one of those schools pull the trigger on him. I like this kid!"
Schlager's offer makes him the seventh prospect from the Nebraska class of 2013 to be offered a scholarship from an FBS program. However, my count of seven Nebraska high school prospects with FBS offers also includes former Lincoln North Star athlete Michael Minter Jr. who was reported to have received several FBS offers, before his senior year and his subsequent dismissal from the North Star football team. Still the six class of 2013 prospects with firm FBS offers already surpasses the total number of four FBS offers from last year's class of 2012.
The Colorado State Rams participate in the Mountain West Athletic Conference. In 2012 the Rams finished 4-8 under first year head coach Jim McElwain, He previously held the positions of offensive coordinator/quarterbacks coach (2008-11) for Nick Saban's Alabama Crimson Tide.
The NCAA Recruiting Dead Period is in Effect
The NCAA recruiting dead period began on December 17, 2012 and runs through January 3rd 2013. During the scheduled dead periods the NCAA forbids college coaches from contacting recruits via the telephone (or by any other electronic means) and from conducting on-campus or off-campus visits. However, during this time frame a prospect or his parent/guardian may still telephone a college a coach.
NOTE: If a prospect, parent or coach becomes aware of an offer to a class of 2013 Nebraska high school football player, please let me know by entering his information in the form that appears below the College Offers/Commitments chart.
Merry Christmas!
Nebraska High School Football
Class of 2013
College Offers & Commitments

Prospect Name, Ht, Wt, Pos(s)




High School

Known Offers

Commitment

NCAA FBS (Division 1A)

Josh Banderas, 6-2, 220, LB
Lincoln Southwest

Nebraska, Iowa, Iowa State, Kansas State, Oregon, Tulsa, Vanderbilt

Nebraska
Christian Lacouture, 6-5, 270, DE
Lincoln Southwest

Nebraska, Alabama, Auburn, Baylor, LSU, Michigan, Missouri, Oklahoma St., Texas, Texas A&M, Texas Tech, Utah

LSU
Casey Sayles, 6-5, 265, TE/DE
Omaha North

Bowling Green, Ohio, South Dakota

Ohio
Nathan Bazata, 6-3, 245, OG/DT
Howells

Iowa, South Dakota State

Iowa
Nick Deluca, 6-3, 220, LB
Milliard North

Ohio, North Dakota, South Dakota, South Dakota State

Jake Schlager, 6-1, 190, DB
McCook

North Dakota State, SE Missouri State, South Dakota, South Dakota State

Colorado State

Michael Minter, 6-1, 180
Lincoln North Star

Purdue, South Carolina (offers before senior season and not likely to stand)

NCAA FCS (Division 1AA)
Tyler Wrice, 5-9, 175, ATH
Papillion-La Vista

North Dakota State, University of Northern Iowa, Illinois State

North Dakota State
Vinny Ross, 6-5, 265, OL
Perkins County

North Dakota

Colin Mertlic, 6-2, 190, ATH
Blair

South Dakota

South Dakota
Luke Worden, 5-9, 170, ATH
Scottsbluff

South Dakota

South Dakota

NCAA Division II

NAIA

Junior College
Offer(s)/Commitment Email Form
[contact-form][contact-field label='Name' type='name' required='1'/][contact-field label='Email' type='email' required='1'/][contact-field label='Enter Prospect Information' type='textarea' required='1'/][/contact-form]
Related Links
2012 All-Nebraska & Super-State State Football Teams
2012 All-Metro, All-City, All-Area Football Teams
MHN Class of 2013 NE H.S. Football Prospects Board
Helpful Links
2013-2014 College Football Head Coach Changes—NCAA FBS
2012-2013 NCAA Football Recruiting Calendar
NCAA FBS College Football Contact Info: Address, email, phone, fax