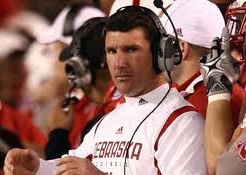 Ekeler's Departure Leaves Huge Void to Fill
The Lincoln Journal Star reports that Nebraska linebacker coach Mike Ekelerhas taken a co-defensive coordinator position at Indiana. During his three year stint as Huskers LB coach, Ekeler has not only developed quality players at the position–he has also been one of Nebraska's top recruiters.
The presence of  the fiery motivator with his innovative and often quirky recruiting tactics will be a void hard to replace for the Huskers. There is no doubt that he played a huge role in the return of the Blackshirts–perhaps the best defense in college football.
The University of Indiana looks like they are finding all the right pieces to build a  formidable Big Ten football program. The recent hire of Oklahoma O-Coordinator Kevin Wilson as the Hosier's new head coach and, now, Ekeler are huge for that program's ambition of breaking from the conference's perennial bottom dwellers.  If  Indaina  should find  success down the road, you can look for Ekeler–a Blair, Nebraska native–to someday get a nod for a head coaching job.
Lincoln Journal Star Link: Ekeler to Indiana
Posted with WordPress for BlackBerry.