Metro Holiday Tournament Should Be Treat for Basketball Fans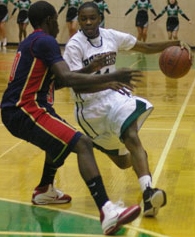 So what school has the best basketball team in the Metro? Well, after the Bunnies outran the previously unbeaten Patriots for a 80-69 victory on Saturday, they get the nod—for now. Although with several quality teams roaming the floors this season—each fielding some high caliber players– the question of who will ultimately become the top team in the Metro is far from settled. Thus making this year's Metro Conference Holiday Basketball Tournament a gourmet feast for high school basketball fans.
2010-2011 Metro Holiday Basketball Tournament Favorites
Tournament play begins on December 28, 2010
Benson (6-1)–First year Benson head coach Donnie Johnson has apparently found the formula to guide his Bunnies to big game wins: That could be a very dangerous sign for the rest of the conference—especially if CJ Cater, who dropped 21 points on the Patriots Saturday, and Avery Langford (13 points) continue to play to their potential.
Millard South (5-1)– The Patriots may have come up short on Saturday, but this well-coached undersized bunch led by senior Kyler Erickson could easily find itself being crowned the 2010-2011 Holiday Tournament champion. Eickson  has a lot  of  support to lean on with the emergence of  Regan Fowler and the return of senior football players Quentin Urban and Elijah Tostenson to name but  a few.
Central (5-1)–The reigning Class A State Champions are starting to get solid production from a backcourt featuring Calvin McCoy and Dominique McKenzie,  after the loss of graduating superstar star Deverell Biggs and Sean McGary. However, Akoy Agau will need to become more productive on offense if the Eagles are to win the Holiday.
Bryan (5-1)—Guard Galen Gullie is back at full force and DK Augustine and Reith Jiech are starting to show why most analyst picked them as the preseason No. 1 team in the state. Tim Cannon's Bears have reeled off five straight wins after dropping their first game of the season to Millard South.
2010-2011 Metro Conference Holiday Basketball Tournament Spoilers
Anyone of the teams listed here will pose a serious threat to any tournament favorite. And if a particular team plays its best ball throughout–it could walk away as the 2010-2011 Metro Conference Holiday Tournament Champion:
Creighton Prep (4-1); Omaha South (3-3) Burke (4-2); Millard West (4-2) and Millard North (4-2).
In short–a bunch of good teams and some outstanding basketball players will be on the hardwood at this year's Metro Conference Holiday Basketball Tournament. It has all the ingredients to become one of the more memorable competitions in the history of the high school holiday classic.
Related Links
MHN Early-Season Top 25 Nebraska High School Basketball Prospects