Decision Time is at Hand for Many in the Class of 2011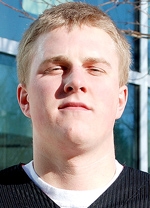 Out of the eight known Nebraska high school prospects currently holding Division 1A offers only two, Brandon Yost (Millard West) and Derrius Vick (Lincoln Southeast) have have not declared their school of choice. Millard West's Yost has received late offers from Ohio and Wyoming and is still on the radar of several other D1A programs. Lincoln Southeast's Derrius Vick claimed early offers from Colorado State and Ohio, but the multi-talented  prospect may end up choosing to play basketball in college.
Earlier this month, Nate Skold, a 6-8, 280lbs OL prospect out of Omaha Westside, committed to play ball at Conference USA's  Tulane  University. The University of Nebraska grabs  early commitments from O-linemen Ryne Reeves (Crete) and  Zach Sterup (Hastings St Cecilia) and DB Daniel Davie (Beatrice). Millard North LB Cole Fisher heads to Iowa and Central's Ted Lampkin will suit up for the Iowa State Cyclones.
Top D-1A Prospects On the Board
The Nebraska High school Class of 2011 is rounding out to be one of the strongest classes in the past several years posting 2 Rivals 4 star recruits in Reeves and Sterup and three 3 Star prospects with Davie, Lampkin and Fisher. Whether or not another Nebraska prospect or two joins the list of eight D-1A offerees is anyone's guess. But there are at least a dozen class of 2011 prospects that are certainly capable of  playing D-1A football. Some of the strongest potential D-1A candidates on the board, in my opinion are:  Devin Bass and Ryan Wheeler Millard North; Quentin Urban, Millard South; Brock Sherman and Ben Muff (Crete); Derek Chancellor (McCook), David Sutton (Lincoln Southeast) and Tiras Bolton Westside.
At the time of this writing there are only six know players holding D-1AA offers (without a D-1A offer): Urban, Muff, Bolton, Chancellor, Bass and Jimmie Forsythe, who recently committed to South Dakota State. The total number of Nebraska D-1AA players offered should top out into the double digits, so we can expect to see some new names emerge over the next several weeks.
Here is the current snapshot of the Class of 2011 Nebraska high school football prospects offers and commitments:
Future updates can be found at  Class of 2011 Football Commitment List.
Nebraska High School Football
Class of 2011 College Commitments

Athlete, Pos (Ht, Wt) H.S.

Offers (known)

School Commitment

NCAA Division 1-A

Zach Sterup, OL (6-8, 260) Hastings St. Cecilia Catholic
Iowa University, Kansas, Kansas State, Ohio, Wisconsin, Louisville, Memphis, Minnesota, Nebraska, Notre Dame, UCLA Stanford

Nebraska

Ryne Reeves, OL (6-3, 300) Crete


Nebraska, Stanford

Nebraska

Cole Fisher, LB (6-3, 190) Millard North

Iowa University, Kansas

Iowa

Ted Lampkin, ATH (5-7, 159) Omaha Central
Iowa State, Kansas State

Iowa State

Daniel Davie, DB (6-0, 185) Beatrice

Nebraska, Kansas, Ohio University, North Dakota State

Nebraska

Derrius Vick, QB (6-2, 180) Lincoln Southeast
Colorado State, Ohio, North Dakota State, South Dakota State  
 
Nate Skold, OL (6-8, 280) Omaha Westside

Wyoming, Tulane, North Dakota, North Dakota State, South Dakota

Tulane
Brandon Yost DL (6-1, 250) Millard West

Ohio, Wyoming, South Dakota State, South Dakota

 

NCAA Division 1-AA

Jimmie Forsythe, QB (5-11, 180) Omaha Burke

South Dakota, South Dakota State

South Dakota State
Ben Muff, LB (6-1, 200) Crete

North Dakota State

 
Tiras Bolton, ATH (5- 170) Omaha Westside

North Dakota

 
Derek Chancellor, OL (6-5, 290) McCook

South Dakota

 
Quentin Urban, ATH (5-11, 185) Millard South

South Dakota

 
Devin Bass, DB/ATH (5-10, 172) Millard North

Drake

 

NCAA Division II

Trevor Thompson
Alliance

Chadron

 
Josh Swanson, LB,  (6-0, 200)
Gering

Chadron

 
Brock Sherman, LB (6-0, 223) Crete
 
 
Eddie Collins, ATH (5-7, 165) Millard South
 
 
Ryan Wheeler, LB (6-4, 244) Millard North
 
 
Ryan Randall, RB (6-0, 190) Blair
 
 
Jordan Wisdom, DE, (6-2, 235) Millard South
 
 
Will Sailors, OL (6-4, 250) Lincoln Northeast
 
 
Jacob Bergmeier, RB/DB (5-9,165) Millard North
 
 
Josh Couch, DB (6-1, 175) Millard North
 
 
Nate Kroupa, LB (5-11, 215) Omaha Burke
 
 
David Sutton, DE, (6-3, 230) Lincoln Southeast
 
 
Tony Gardner, WR/DB (5-11, 175) Millard South
 
 
 
 
 
 
 
 

NAIA

 
 
 
 
 
 

JUCO

 
 
 
 
 
 
 
 
 
 
 
 
Related Links:
2010 OWH All-Nebraska Football Team
2010 LJS Super-State Football Team