Lincoln Southwest's Tay Bender is looking the part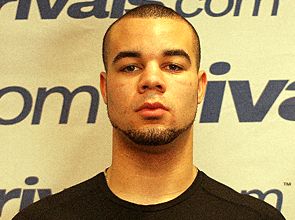 After 7 weeks of Class A football, there remains not a single team that one can point to in confidence and declare that it will most likely win the 2011 state championship. In fact, during the past four years of MHN coverage, I can't recall a year – this late in the season – where so many QUALITY teams still have an excellent shot at mounting a state championship title banner inside their gymnasium:

Here is my Top Seven Class A Football State Championship Title Contenders list for 2011 – listed in the order of their likelihood to win the title. However, BY NO MEANS is this a prediction! Because every single team on this list can win the 2011 Class A Football State Championship. The best part is that each team plays an exciting brand of football and possesses their fair share of talented football players. This year's Class A playoff chase should be a fun one to watch! May the best team win!
MHN 2011 Top 7 Class A Football
State Championship Title Contenders

1.

Grand Island Islanders, Jeff Tomlin, Head Coach (7-0):

They field the top defense in the state but their stats come off the back of a rather weak schedule. However, their offense led by QB

Ryker Fyfe

certainly looks cable of lighting up the scoreboard on any opponent. And if that Islanders defense can deliver decent performance against quality opponents it will be good enough to allow the team's potent offense to outscore any competition.  Regardless of their current schedule the Islanders under Tomlin have had strong defensive units. My bet is that this year's version can stand toe-to-toe against any offense. That will be crucial because in the end – It's usually the ability of a team's defense to stop opponents that wins championships.

2.

Lincoln Southwest Silver Hawks, Mark King, Head Coach (6-1): Look out Omaha! This Lincoln team is coming on strong. Kansas State recruit

Tay Bender

is beginning to find his groove and the Silver Hawks field a pretty good defense to boot, allowing only 66 points on the season. Lately, Bender has gobbled up some pretty good yards on the ground  and turned in some nifty long distance runs for scores. There is nothing more troublesome to defend than an elusive QB with an arm.
3.

Burke Bulldogs, Paul Limongi, Head Coach (7-0):

The Bulldog Triple Threat Gang (Zach Cook,

Jordan Nelson

and

Carson Collins

) look unstoppable on offense, averaging over 42 points per contest that features a well-balanced attack.  Unfortunately, Burke fields a defense that has given up nearly 35 per game against their 3 quality opponents this season. If not corrected, it's a weakness that could come back to haunt Burke during the heat of the playoffs
4.

Omaha Central Eagles, Jay Ball, Head Coach (6-1):

 The Eagles filed the most electrifying and elusive tandem of RBs in the state: juniors

Jackie Davis

and

Quentin Williams

can straight out bust ankles and take it to the house on any carry. Also, senior QB Will Burgess is a very good experienced play caller with a nice arm and strong game management skills. Central's defense is pretty athletic stout bunch, too.

5.

Papillion La-Vista, Jeff Govier, Head Coach (6-1): Last night, the Monarchs escaped a scare from the Omaha North Vikings (the best 2-5 team in the state). Papio sophomore QB Alec Ditoro, the state's leading passer with 17 TD strikes and over 1500 yards, helped to lead a 21-point come from behind 4th qtr charge to secure the win over North. Yet like Burke the Monarchs have a propensity to give up a lot of points on D.
6.
Lincoln Southeast Knights, Ryan Gottula, Head Coach (6-1): A team that fields the only class of 2012 Nebraska recruit in TE/DE Sam Cotton, is a club that is solid on both offense and defense, The Knights have a storied tradition, winning 8 Class A titles since 1976. The Knights defense has given up on 56 points on the season – the fewest in Class A. Their offense, led by players like RB

Devin Washington

and QB/DB Najee Jackson, make this team more than capable of adding another trinket to their trophy case in 2011.
7.
Millard North Mustangs, Fred Petito, Head Coach (2-5): The reigning state champs remain in the hunt despite the forfeiture of 3 wins due to an unfortunate NSAA rule violation.  If Petito's Mustangs, led by state leading rusher Isaac Aakre (1280 yards), can make the playoffs, they will have as good a chance as anyone. Just for added measure – the Mustangs will likely be playing with a chip-on-the-shoulder mentality.  Dangerous!

Dark Horses

Millard West Wildcats,

Kirk Peterson

, Head Coach  (5-2);  Kearney Bearcats, Brandon Cool, Head Coach (6-1). Omaha Westside Warriors, 

Brett Froendt

, Head Coach (5-2).
Related Links
Nebraska HS Football Statistic Leaders – Oct 7