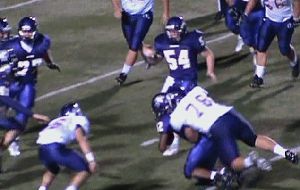 Indianola High School class of 2012 football prospect Don Dawson III turned in a solid performance on the field in 2010 and now he is stirring up interest from colleges by the way he has started off his 2011 senior campaign.
According to his father, Don Dawson II, "The Third" is getting a lot of calls from D-2 schools looking to set up December visits so they can make offers. I've seen all Dawson's game films from the past two years so it's no wonder for me that folks are starting to line up for his services.  The big 6-2, 275 lbs Iowa DT can play some ball!
The two-way starter, who plays nearly every snap in a game, has shown marked improvement from a junior year that saw him record 6 sacks, 52 tackles (many for losses) and earn CIML all-conference honorable mention accolades. This year he plays with a lower pad level is more effective with the use of his hands.  A successful high school wrestler, Dawson plays with tremendous leverage, power and attitude, making him an excellent prospect for a two-gap D-lineman or nose guard at the next level.
There is no doubt in my mind that Don Dawson is the kind of kid that can mature in the weight room and on the field to become an effective DT at the highest level. He's just a fighter in the trenches who does a lot of good things on his way to the ball. I can only imagine how more effective he would be if he didn't log so many snaps as a guard on offense.
Dawson is simply one of the better high school DT prospects for whom I've had the pleasure of making a highlight reel.
At the end of the day, his dad says there is a good chance that, "The Third" may eventually choose to walk-on at a D-1A school. And if that is the path he chooses to take, my bet is that barring injury or calamity – Dawson is going to make good.
Below, Check out Don Dawson's latest 2011 senior season highlight videos.
httpvh://www.youtube.com/watch?v=1zLVQIfb9TY
httpvh://www.youtube.com/watch?v=rMkkKb9uRrU
Related Links
Don Dawson III Website Home Page