MHN Early-Season Top 25 NE HS Football Prospects Ranking: Class of 2012 to Be Released this Sunday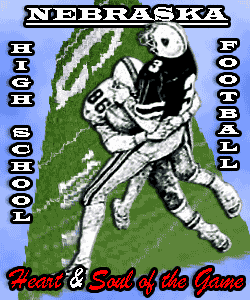 Game of the Week — No. 2 Grand Island defeats No. 6 Kearney 36-24 for the first time in ten years. Islander QB Ryker Fyfe had another HUGE night racking up 347 total yards: 233 passing (14-25) and he rushed 23 times for 114. Along the way Fyfe scored 3 TDs on the ground and threw 2 TD strikes to Sam Foltz. The big speedster ended the contest with 6 receptions good for 134 yards, including a 72 yarder on a flea flicker.
No.1 Omaha Burke continues to roll as they blow past Papillion-La Vista South 46-7. The "Triple-Threat Gang" of QB

Zach Cook

, and RBs Jordan Nelson and

Carson Collins

delivered big numbers: Cook threw 3 TD passes, completing 8-13 for 201 yards and Nelson scored 3 TDs (includes a 65 yard catch for score) and rushed for 141 yards, while Collins carried for over 100 yards and scored twice.
After two tough losses to top ten teams Omaha North slaps a W in the win column, defeating Omaha South 35-10. Terry Grigsby scores 3 TDs and junior Viking QB Zach Martin clicks on 94.4% of his passes, hitting an incredible 17-18!
No. 8 Central looks to be for real as they clutch a hard–fought victory over reigning Class A champ Millard North – the Mustang's 2nd loss in a row. Eagle QB Will Burgess burns the Stangs with 3 TD passes. According to the box scores of the last two games, Millard North's Achilles heel is showing – their secondary!
My, how the mighty fallen! Creighton Prep's new head coach Chris Nizzi is off to a horrible 0-3 start: This time his team suffers a 0 – 34 defeat to rival Omaha Westside. When is he last time the Jr. Jays got slaughtered like this?
Speaking of losing; Damon Benning's Northwest Huskies almost pulled out a victory in their 21-27 loss to Lincoln High School. It would have been Benning's first win as a head coach. Oh well, at least he knows his dogs got some fight. Hopefully, this game will give the Huskies something on which to build. Northwest junior RB

Nigel Phillips

scored on 3 carries and was the game's leading rusher with 122 yards on 16 attempts.
Omaha Skutt's TE Matt Miller has big night in a 38-24 win over Lincoln Pius X, scoring 3 TDs on 5 catches for a total of 91 yards.
The Race for the Class A Crown is Heating Up
It's still early but Burke is standing real strong at No. 1 in Class A; yet many are still in the hunt for the grand prize at the end. Grand Island, Millard West and  Omaha Central appear to be the strongest among the bunch. But don't count out Millard South or Millard North (but they better fix that secondary) and Lincoln Southeast and Lincoln Southwest could be really humming come playoff time. Also, I can't leave out my No. 1 dark horse Omaha North. They are a dangerous team if they clean up on mistakes and get their running game going.
Top 25 Prospects
The MHN Early-Season Top 25 Nebraska HS Football Prospect Ranking for the Class of 2012 will be released this Sunday, September 11th.