Cyclone QB Steele Jantz delivers again in clutch time, while the Iowa Hawkeyes look like a football team on the ropes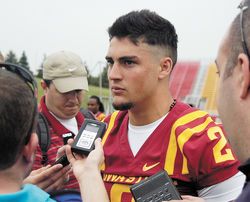 Iowa State QB Steele Jantz overcame a 0-10 first quarter deficit, three team fumbles, two blown easy field goal attempts, and a bevy of Cyclone penalties to lead his team to a triple OT win over in-state rival Iowa.
The 6-foot-3, 225lbs first year junior college transfer completed 25-37 passes for 279 yards and 4 TDs.  However, it was down the stretch with his team trailing 17-24 that Jantz truly began to work his magic.
Like money in the bank Jantz converted on numerous improbable 3rd and 4th down situations throughout the game. Perhaps none more dramatic than those 3rd and forever's and 4th and you-better-make-it dilemmas which presented themselves late in the 4th qtr. during a 13 play 59 yard drive.
Iowa State trailing 17-24, the thrilling drive ended on a 3rd and goal play at the 4 when Jantz threw a strike to Darius Darks for a touchdown, followed by a Zach Guyer extra point kick that tied the game 24-24 with 1:17 left on the clock.
After the ensuing kickoff and a Hawkeye false start penalty on 2nd and 8 from the 22, Iowa head coach Kirk Ferentz elected to burn the clock and settle for overtime – even though the Hawks still had two timeouts remaining and nearly a minute to play to reach field goal range.
The first OT game in Cy-Hawk series history went back and forth for the first two OT periods with both teams trading a touchdown on each possession.
Finally, in the third OT, the Cyclones defense forced a Hawkeyes field goal attempt that sailed through to give Iowa a 41-38 lead.
The worn down Iowa defense had no such luck. Jantz quicly drove his team down to the 4, where on 2nd down RB James White darted in for the 44-41 triple OT win.
Steele Jantz Took a Long and Winding Road to Iowa State
Jantz, a 2008 graduate of Nevada Union HS, tore his ACL during his senior. No offers coming his way, he walked on at the University of Hawaii. The next season he found his way back to the Mainland to play junior college ball at City College of San Francisco. During his sophomore season (2010), Jantz passed for over 3,000 yards and 23 TDs to lead the team to an 11-1 record and a berth in California State Community College Championship Game.
Cyclone head coach Paul Rhodes and offensive coordinator Thomas Herman took notice of the big, fast elusive QB with the golden arm and decided to offer him a scholarship.
Jantz only recently secured the Cyclones' starting QB position, after a highly competitive battle this past summer.
Last week in his first start he led the Cyclones to a last-minute 20-19 come-from-behind victory over the University of Northern Iowa.
In the Iowa vs. Iowa State game the clutch QB put the Clones on his back once again and led them on 4 consecutive late-game TD drives – 3 in OT!
Jantz's mobility in the pocket and his cold-blooded accuracy when all the chips were on the table was the key to a game that could arguably be considered the biggest victory in Iowa State history.
The Cyclones future looks bright as long as long as Jantz remains healthy and continues to find his groove.
The Hawkeyes, on the other hand, are in serious trouble.
Trouble Brewing in Hawkeyes Land
Going into this season everyone knew that the Hawkeyes defense would be suspect due to it losing so many quality players to graduation – with the defensive line taking the brunt of the hit.
Even so, I must say one would have expected that the Hawkeye staff would have addressed and found a remedy for the team's most glaring problem – fourth quarter defensive fatigue!
Over the previous two years, Hawkeye fans have had to endure watching Iowa defenses that look and play like they have run out of gas during close 4th qtr. contests.
Obviously the Hawkeye staff has not found the answer to the late game funk on defense.
Adding to their woe is a sub-par 2011 defense – as compared to those dominating units from recent years – that will look up in the 4th qtr. to see scoreboards totaling considerably more points for their opponents than in previous seasons.
This of course will force the Iowa offense to put more points on the board in 2011 – a proposition that is hard to fathom based on the current state of affairs.
I think the Hawkeyes could be staring ahead at a long season: the kind of season that invariably produces substandard performances and disillusioned fans clamoring for coaching changes.