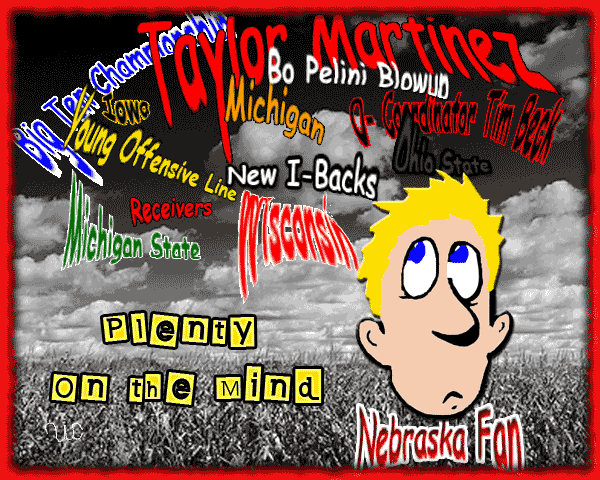 Hey, on Saturday the Nebraska Cornhuskers beat Tennessee at Chattanooga 40-7.  However, after visiting Husker message boards, listening to some the expert commentary and perusing through a lot of newspaper and online sports articles, one could come away thinking that the Huskers barely escaped with a victory over the Moccasins*.

I guess that's what high expectations will do.

OK, maybe the Huskers didn't quite cover the 38 point Vegas spread, but considering everything else I still believe the Huskers look like a team on track for a Big Ten Championship.

Generaled by new offensive coordinator Tim Beck and fielding a new offense and a very young and inexperienced O-line, NU performed pretty much as I expected them to in their first outing of the season.

O-line coach

Barney Cotton

and

John Garrison

have three more games before the Big Ten opener against Wisconsin to figure out the right rotation and get their troops into gear. And those young studs have the same amount of time to find their rhythm and mesh.

Taylor Martinez's blistering burst is back – the fastest north-to-south QB in the country.

Martinez is what he is. Don't look for him to become a great passer. As long as he can deliver with his legs or arm when it really counts that will be good enough for the Huskers to beat anyone on the schedule.

Those big time freshman backs should start to come along as the beef up front improve enough to give them that little extra crease a young back needs to see daylight.

By the time the Wisconsin game rolls around the NU offense should be firing on all cylinders.

Will NU beat the Wisconsin Badgers? Yes: if the Blackshirts can shut down that impressive Wisconsin offense led by a worrisome

Russell Wilson

. Count on

Carl Pelini

and the rest of the D-staff to have something up their sleeves for that game.

The Huskers offense will have to do their part by managing the game (first downs and no turnovers). Most of all Martinez and the coaching staff must be prepared to deliver in crunch time, because this game could come down to stopping the team that has the ball last.

Besides Martinez, another good omen for the Huskers is kicker and punter

Brett Maher

(Kearney). There is nothing like the comfort of knowing you have an ace in the hole when you need to put points on the board or punt yourself out of trouble.

So folks give the Huskers a few more weeks to get settled into this offense and then you may see the machine-like precession you expect.

*Tennessee at Chattanooga's original nickname was "Moccasins." In 1996 it was shortened to "Mocs" because of "racial insensitivity." They may now have a mockingbird as their mascot, but isn't that a funny choice considering the reason for the change of names in the first place?