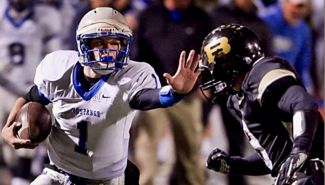 Michael Minter

, DB/RB (6-1, 175), Lincoln North Star, Jr. — The newcomer from North Carolina is finding a dangerous groove – rushing 15 times for 237 yards and 2 TDs against Benson. Being blessed with size, 4.5 speed, outstanding athletic ability and a stout bloodline, Minter has the potential to elevate into the stratosphere of all-time Nebraska high school football greats.



Ryker Fyfe

, QB (6-4, 195), Grand Island, Sr. — Against Omaha Bryan he tossed a perfect game, completing 8 out of 8 for 126 yards in three quarters of play – 4 of those strikes were good for touchdowns.

Jackie Davis, RB (5-8, 170), Omaha Central, Jr. — The explosive and elusive back lit it up for 136 yards on 21 carries, including 2TDs on the ground and one receiving.

Terry Grigsby, WR 6-2, 195), Omaha North, Sr. — His 3 catches in a loss to No. 10 Omaha Central were good for 132 yards, including a 45 yard grab for a TD. After only 2 games Grigsby has nearly 300 yards receiving, averaging 26.7 yards on his total of 11 hauls for the season.

Colten Mach, LB/RB (6-0, 210), Crete, Sr. — The standout two-way performer rushed for 107 yards and 2 TDs for the No. 1 Class B Cardinals in their win over Omaha Skutt.



Zach Cook

, QB (6-2, 195), Omaha Burke, Jr.— The junior was good on 9-14 passes for 202 yards and 4 TD strikes, on his way to leading his Bulldogs to victory over No. 1 Millard North.

Carson Collins, RB (5-11, 225), Omaha Burke, Sr. — The big senior back carried 14 times for 138 yards and scored 3 TDs (2 on the ground and one thru the air).

Jordan Nelson, RB (5-8, 170), Omaha Burke, Sr. — He performed a triple double in the Game of the Week: over 100 yards rushing, over 100 yards receiving and 2 TDs.

Issac Aakre, QB (5-11, 175), Jr. — In the loss to Burke he added a second consecutive game of rushing for over 200 yards, carrying 22 times for 212 yards and 2 TDs (longest 70 yards). Unoffically, adding in  Aakre's 249 yard game from last week, he has already rushed for 461.

Chris Bailey, FB/RB (6-0, 215), Millard North, Sr. — He bulled his way for 138 yards on 22 carries, scoring 2 TD's.

Cale Korbelik, RB (5-9, 180), Millard North, Sr. — The Mustang speedster returned a kick for a 98 yard TD.



NOTE:

Whew! The

nearly 7,000 fans

that saw the Burke vs. Millard North contest were treated to a lot of great offense.