Millard South Freshmen Clara Nichols & Morgan Woitzel On Path To Elite Status

MyHitNews.com's
Metro Conference Track & Field Meet

Performance Awards
Top Performance—LaQue Moen-Davis,

Central
Holding a state record is a huge accomplishment and a high honor in any sport: It says you have done something that no other high school athlete from your state has ever done—you are the first. You are the best ever to do what you do! And that is what Moen-Davis did this past Wednesday.
I could tell that she was ready to make it happen. You could see from her demeanor that all she wanted that day was the triple jump record. When she landed well over 39 feet on her second jump—you knew the moment was at hand. On her third jump, Moen-Davis entered the record books by doing something no one else in this state has done before her (according to NSAA rules). Right now the 15-year-old sophomore can say "I'm the best ever!" Only a chosen few athletes are legitimately able to wear this mantle.
Most Gutsy—Linda Hannah

, Central
This Omaha Central senior distance runner gave
Kelli Budd
all she could handle in the 800 meter. Midway down the backstretch of the last lap, Hannah began making her move on Budd, coming up right alongside her while going into the third turn. Budd fought her off but Hannah tried again until Budd finally got some separation coming out of turn four and into the homestretch. Hannah gave everything she had to catch her, but had to settle for the second place finish.
Most Shocking—Brandon White

, Westside
Only a junior, this Omaha Burke transfer student/athlete posted a sub-49-second time to win the 400 meter dash–going away. I was not only surprised to see him—or anyone from this season–crack 49, I was amazed at how well he looked doing it. White has some serious potential. It will be interesting to see if he will be motivated now to do all the things he can to become one of the best 400 meter sprinters to ever come out of Nebraska.
Top Freshman—Clara Nichols & Morgan Woitzel, Millard South
You would think Nichols would be the clearcut winner here since she actually won an event. However,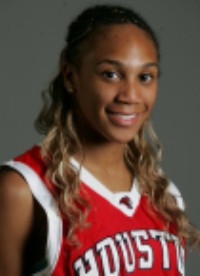 her teammate, Woitzel, was just a lean away from taking that victory from her. Both these freshmen must have regional D-1 track coaches drooling over their potential. As someone who was fortunate enough to follow the Junior Olympic and high school careers of current Nebraska girls Class A State Meet 400 meter record holder Jasmine Johnson—who by the way is now a starting point guard for the  University of Houston Cougars womens basketball team (
see Johnson's college bio here
)–I understand how crazy the numbers are that these two freshmen are putting up!
Johnson struggled to crack 58 as a freshman—Morgan and Woitzel are already under 57 seconds. Both girls have speed too: Nichols took second in the 200 at 25.31 and Woitzel ran 12.58 in the 100 meter prelims and placed  4th in the finals. Include into the mix their advanced running form at this age—a testament to some great coaching—and their extremely fortunate circumstance of being able to push each other on a daily basis, these two girls have all the ingredients to mature into elite national-caliber 400 meter runners. Nebraska–meet your future girls 400 meter state record holder(s).
I Told You So—Thomas Hodges

, North
Last May, after the state meet, I told you that Hodges was a sprinter to watch for this year. As good as he is now, the best thing that this junior has going for him is his tall upside. He has already proven that he is a fierce competitor, but he is still raw on his form and is muscularly underdeveloped. So pack a little–quality–muscle onto his frame and fine tune his form—who knows where he could end up.
Most Dramatic—David Poots,

Millard West
Without a doubt Poots' Hollywood-like collapse after the end of his 1600 meter victory was something to see. He almost had me reaching for my cell to dial 911.
Congratulations to Westside's head girls track and field coach and myHitNews.com contributing writer Jon Preister and Burke's boys head track and field coach Mike Mingo for being selected Metro Track Coaches Association Coaches Of The Year (selected by the Metro Coaches Association).
Over the next couple of years, with the talented group of athletes that are already in the pipeline, Nebraska high school track & field is poised to bring a lot more outstanding performances, all-time marks and state records.
A lot of season's best times and PRs were established at this year's Metro meet, meaning that the Metro coaches are doing a good job of beginning to peak their athletes at the right time. Hopefully it will all payoff for them at the state meet.
Check Out the 2009  Metro Track & Field Championshps video highlights: