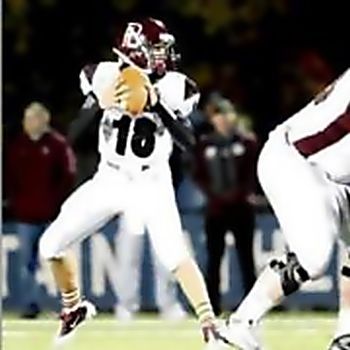 Friday night's Nebraska High School Football Game of the Week between Millard North and Papillion-La Vista not only pits two undefeated teams against one another—it also represents the best of the old-fashioned run-oriented veer/option football teams against the state of the art pass-and-then-pass-some-more offenses that have finally filtered down into the high school level in Nebraska. Featuring two of the most prolific-at-their-craft quarterbacks in the history of Nebraska high school football, the outcome of this battle will likely be decided by the QB who has the better night.
Millard North senior signal-caller Isaac Aakre, a starter since his freshman year, earned 2011 first team all-Nebraska honors as Class A's second leading rusher raking up nearly 1900 yards on the ground. Aakre's opposing counterpart this week, Papllion-La Vista junior Alec Ditoro, led Class A in passing with 2,628 yards and 28 TDs, connecting on 193 of 283 attempts (68% completion rate). After only 5 games this season, the Monarch machine gunner has already thrown for 1,376 yards and 21 TDs which includes tying the single-game state record for TD passes with 6—all in the first half— against Lincoln East in the second game of the year.
What it Says on Paper
On paper the nod to win Friday's showdown goes to Omaha World-Herald' No.1 ranked high school football team—Millard North. The Mustangs have faced and beaten some of the top teams in Class A, including a victory over No. 2 ranked Millard South (12-10) in their first game of the season. The Monarchs, on the other hand, have played one of the weakest schedules in Class A. Through the first five games of 2012 their opponents have a combined win loss record of 7-18 vs. Millard North's opponent record of 15-10.
Papillion
Papillion's lackluster schedule and their overall lack of state championship success lend many to discount them as a legitimate state title contender in 2012. But certainly I'm not one of those doubters.
In his sixth year as head coach at Papillion, Jeff Govier has nurtured and developed the kind of talent and maturity in his program that's necessary to win a state championship title. And It will be the latter (maturity) namely at the QB position that will ultimately decide the Monarchs' fate in 2012.
Last season as a sophomore, Ditoro led the Monarchs to a 9-3 record and into the state playoff semifinal game, eventually losing (18-28) to eventual state champion Lincoln Southeast. Stumbling at times last season when it counted the most, a more experienced and skilled Ditoro is apt to be more poised under pressure and less prone to make poor decisions in big games. Fortunately, he has plenty of talented bodies to help bail him out if things get shaky.
Chomping at the bit to deliver a big play for the Monarchs will be a plethora of talent and speed at the skill positions led by North Dakota State recruit Tyler Wrice, an explosive athlete who is a threat carrying the ball or coming out the backfield on a route. Accompanying Wrice will be the state's best core of receivers in 6-foot-2-inch seniors Bryce Sheard and Spencer Lewis plus speedy junior Jalen Allison.
Millard North
29-years-long Millard North head coach Fred Petito's run-first, most often, then ask questions later Mustangs will be looking to keep the ball on the ground and ultimately wear out the Papio defenders with his big physical line and hard-running durable backs. If the Mustangs keep to their script Aakre will get the lion's share of attempts. However, after last week's the 244 yards on 30 carries performance at QB by junior Clay Fisher (6-2, 200) who played in relief for Aakre (result of a head injury suffered in prior game) don't be surprised to see Fisher in the mix on offense against Papio.
The Old vs. New: Impact on Recruiting
The old way vs. the new, the pass vs. the run, the long-in the-tooth career coach vs. the relatively new upstart—two very good well-coached undefeated high school football teams will be squaring off this Friday night. Which offensive philosophy and—team—will come out victorious?
Utilizing his run-oriented approach, Fred Petito, has won three state championships, coached an eventual Heisman Trophy winner in Eric Crouch and developed numerous D-1A players and even some NFL members during his 29 years at Millard North. Yet at the same time the game at the top (college and professional) evolved, for the most part, into relying more and more on the pass to move the ball down the field.
In high school football recruiting the proliferation of the passing attack in college football has put a premium on speed and talent at the skill positions.  Even the ideal skill sets for the linemen on both sides of the ball have evolved—they must be quicker and more readily able to adapt (through experience) to this new reality.
So when I see Nebraska high school coaches who are successfully emphasizing the pass—I applaud them and hope they triumph, because it is the new reality in football.
It's my belief that the more Nebraska high school football prospects are exposed to implementing pass-oriented offenses and defending against them the better chance they will have to play at the college level.
I like Govier's Papilliion-La Vista Monarchs and what they represent for high school football in Nebraska, namely the new: the passing attack offense!
My Prediction
This Friday night I think Papillion will beat Millard North! However, regardless of the outcome of this game and Papio's daunting remaining regular season schedule (Omaha North, Burke and Millard South)—I think the Monarchs can win it all in 2012. At least I will be pulling for them to do so.
Related Links
Nebraska High School Football Game of the Week: Cast your Pick