Plus: Below, view the Jarek Hilgers Highlight Video—First 5 Games of 2012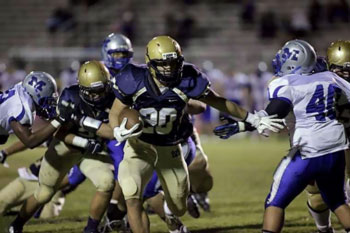 Jarek Hilgers, one of the country's top high school RB prospects in the class of 2013, has shown obvious signs of improvement in his running game this season, while helping to lead his 7-2 Desert Vista Thunder toward a shot at a second consecutive Arizona high school Class 5A state football championship.
Over the offseason, the 6-1, 210 lb. Hilgers worked hard to add 10 pounds of pure muscle, much of which sits atop the thick, powerful legs that can hoist over 600lbs in the squat and can propel him upwards to an outstanding 41.2" vertical—the nation's 8th best height in the class of 2013.
Hilgers' added power and size has transferred onto the playing field, too. The senior back now accelerates more quickly—through the line of scrimmage and past the second level of defenders.
After watching Jarek Hilgers' junior film last winter,  I was so impressed by what the then sparingly used senior-to-be displayed that I went on record to state unequivocally that he would receive a D-1A offer(s). To date: Hilgers holds 5 D-1A offers from San Diego State, BYU, Air Force, Yale and New Mexico State.
Although Hilgers has become the Thunder's featured back this year, his overall yardage totals for 2012 will not blow you away: 722 yards on 90 carries (8 .02 yds. per carry) for 15 TDs. However, don't let the lack of him posting over-hyped gaudy rushing totals fool you. The facts are: Desert Vista has a great football program which fields a lot of very talented athletes and many of their victories this season have been blowouts. Those two factors limit Hilgers opportunities and time on the field. He also lost a whole half of play after suffering a 5-stich-requiring gash to his skull as a result of a hit that ripped his helmet off in a game early on in the season.
The Thunder have understandably struggled somewhat this season after having to replace several quality D-1A players from last year's 13-1 state championship team roster, which included QB Hunter Rodriguez (Idaho), RB Michael Arredondo (New Mexico State) and Rivals 3 Star O-lineman J.J. Dielman (Utah).
Head Coach Dan Hinds currently has his 2012 Desert Vista Thunder sitting at 7-2 with one more regular season game left before the team heads into the playoffs to defend their state title.
As the season has progressed so too has Desert Vista's 5-foot-10 senior signal-caller Matt Young who is beginning to fill the void left by Rodriguez's departure. In addition to being a running threat, the athletic Young has provided a much needed compliment to the Thunder's running attack this season by competing over 62% of his passes (87-140) for 1,146 yards and 12 TDs. Perhaps even more important, Young has only thrown 2 INTs.
Desert Vista's upcoming playoff opponents will likely game plan to stop Jarek Hilgers, so Young's continued ability to connect with his receivers and to not turn the ball over will loom large if the Thunder are to repeat as state champs in 2012.
I don't know how things will turnout in the playoffs for Dan Hinds' Thunder, but I do definitely feel confident in saying that "Jarek Hilgers has a huge upside and he has yet to come into his own. Hilgers will move on from Desert Vista to eventually become a very productive D-1A college running back."
Over the next several years, I'll be looking forward to sitting down in front of the TV and watching Jarek Hilgers play big time college ball on Saturdays.
I only wonder, now, what lucky team will land this rising star.
Related Links
'Jarek Hilgers Receives First D-1A Offers'
'Jarek Hilgers: Big Play Arizona RB Destined for Glory'
Jarek Hilgers' Home Page: Measures, Season Stats, Team Schedule/Results, Videos and Articles