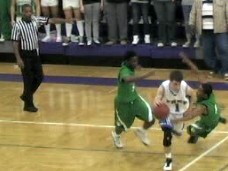 By Will Cummings
myHitNews.com
   Coach Tyler Cerveny's  undersized Benson Bunnies gave it their all and nearly pulled off the upset victory against the state's No. 2 ranked Creighton Jr. Jays.
   The Bunnies, with Class A's shortest lineup, at times seemed more than the much bigger Prep could handle as they led by as much as nine points during the second quarter. But the second half would have a different story emerge.
   The tale of the second half was the ability of  the Jays' Cole Martin, Caleb Steffensmeier and Alex Hook to consitently drop in shots from long range. The Jays hit nine three-pointers in the game, many of those bombs went uncontested due to a combination good ball movement and sharp adept passing by Prep and the inability by Benson players to get to the open man soon enough.
   While the Jays were narrowing the point differential. on the outside, the Bunnies began to struggle a little here and a little there–failing to convert on a couple of fast breaks and to capitalize on some easy looks at the basket. Then before you knew it, there was a close nail biting back and forth fourth quarter ball game.
   Midway through the fourth quarter, the Bunnies CJ Carter and Steville Burns settled down the Bunnies by finishing a couple of strong drives to the basket and a pull up jumper. Benson had a three-point lead with 1:42 left when Creighton Prep's senior guard Alex Hook made the Play Of The Game by sinking a nothin' but net three-pointer from the wing to tie the game at 51-51. For the remainder of regulation play, neither team could find the bottom of the bucket.
   OT  was anti-climatic as Benson like most teams and/or programs yearning to climb that one rung further up on the ladder were unable to find a way to grab a hold and pull themselves up and over an opponent that has been at this height many times before. Consequently, the Junior Jays pulled away to 63-55 victory.
 Game Notables: Nice to see Creighton Prep's Scott Criss, a D-1 football recruit headed to Wyoming, get some quality playing time—pretty nimble for a big man.
    Oh well, Action Force, no ones perfect—but you were close on the outcome for this game—but close  does not count!
Check out the Play Of The Game: Alex Hook's three-pointer to tie the game and send it to OT
 httpvh://www.youtube.com/watch?v=flH3YKpeCKM
More Creighton Prep vs. Benson highlights will be posted later this week.