Yusef Wade Is Eternally Grateful To Children's Hospital and Dr. Mark Puccioni: Part I of II
By Will Cummings
myHitNews.com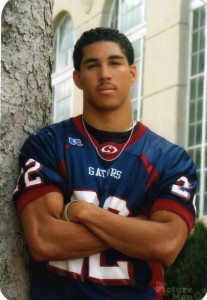 One of Nebraska's top high school football players, Yusef Wade, a 5-foot-10- inch, 175lb defensive back and running back from Lincoln North Star, is off to a strong start to his 2009 senior season, averaging 8.3 yards per carry, while rushing for a total of 630 yards and 8 TDs through his first five games.
But Wade almost did not live to see the day that he would become a sensation at North Star High:
The whole ordeal started off innocently enough, little Yusef, the youngest of five children, began complaining to his parents, Rose and Otha, about the searing pain in his head and the nauseous feeling in his stomach. His mother, concerned about Yusef's unusual cries of feeling so sick, would end up taking him to the doctor's office on several different occasions. Yet after each visit his symptoms were diagnosed as the flu. "Something wasn't right," Rose thought, "The medicine wasn't working and Yusef seemed to be getting worse." Determined to find help for her son, Rose, a strong-willed very detail oriented lady of Mexican descent, decided to take Yusef to the emergency room at St. Elizabeth Hospital, in Lincoln, Nebraska thinking that it would be better equipped to find the source of his suffering. However, to her dismay, the hospital staff came back with the same diagnoses as before; "it's probably just the flu." This time Rose didn't accept the answer: Rose demanded that the hospital give her boy an X-ray and CT scan. The hospital staff complied with her plea.
Rose's intuition was correct! The examinations revealed several large abscesses on Yusef's brain. Recognizing the imminent danger, the hospital staff quickly ordered an emergency airlift to take Yusef to Omaha's Children's Hospital, but the dense fog covering the air made it unsafe for helicopter flight; so by ambulance they raced Yusef from Lincoln to Omaha.
Wades Take a Huge Medical Gamble on Son's Life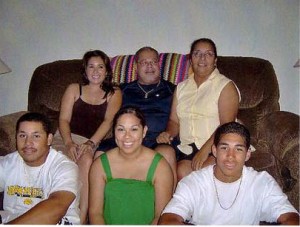 Once Yusef and his parents arrived at Children's, Dr. Mark Puccioni, the neurosurgeon who would perform the operation on Yusef, counseled Mr. and Mrs.Wade and told them that due to the locations of the
abscesses on Yusef's brain, the best chances for a successful operation—one that would negate chances of long-term brain damage or even death– would require him to use of a dangerous–new–but very effective and efficient procedure.
There was just one problem—Dr. Puccioni had never performed the technique.
Rose and Otha were petrified at the thought that this doctor wanted to execute a relatively new technique on their son that he had never attempted. Panic-stricken by the predicament his son was in, Otha called the Johns Hopkins University offices of world-renowned neurosurgeon Dr. Benjamin Carson to inquire about the possibility of the famous doctor performing this new technique on their boy. The female assistant, at Dr. Carson's office, who took the call from Otha responded to his plea by telling him because his son was in critical condition, and he was already at Children's Hospital in Omaha under the care of a surgeon–it would be wise to keep him there. Fortunately, the assistant went on to deliver some good news when she told him that Yusef was in good hands:
Dr. Mark Puccioni had graduated first in his class at Creighton Medical School and he is a very fine surgeon: If any one could successfully perform the operation he could."
More at ease after hearing the assistant's words, Rose and Otha agreed to let Dr. Puccioni perform the surgery. As Yusef entered the operating room, Rose and Otha prayed and then embarked on the long harrowing wait for Dr. Puccioni and his team to complete their tasks.
Finally, his work completed, Dr Puccioni emerged from the operating room and told Mr, and Mrs. Wade that all went well, but nothing would be assured until Yusef awakened from the drug induced coma needed to prevent further complications. They waited not knowing if their son would awaken from his sleep deaf, dumb, blind, crippled—or if he would even wake up at all.
Yusef Survives
Three days latter, Yusef finally awoke from his coma and Dr. Puccioni performed his post-operative test that suggested the operation to be a success. It was only then that Dr. Puccioni confided to Mr. and Mrs. Wade that due to the massive swelling inside Yusef's head he did not think their son would survive the operation. Yusef would undergo two more operations to remove the other abscesses—a total three major surgeries in eight days.
Awakened from his final surgery, the bald, scared-headed, ten-year-old, little boy now had four titanium plates holding his skull together:
His motor skills short circuited from the ravages of the brain surgeries, Yusef would now have to learn to walk again. And there were no guarantees that he would ever be able to walk and run like he had before the operation."
It wasn't long before a fully cognizant Yusef began conversing with the doctors and nurses about what he had gone through and what lay ahead. Dr. Puccioni patiently took his time to explain to Yusef the reasons for his sickness and the procedures he used to preserve his life and just how close that he was to death. Little Yusef was so moved and captivated by the Doctor and all that he shared with him that he soon set his mind to one day become a brain surgeon just like Dr. Puccioni. Of course, Yusef would grow up to have other interest and dreams but he has never let go of his ambition to be a brain surgeon.
Dr. Puccioni's surgical mastery and his dedicated team of technicians and nurses at Omaha Children's Hospital enabled Yusef—not only to live—but to live a healthy normal childhood and to eventually enjoy the success of his teenage years as a standout student/athlete. In retrospect, it's truly amazing how one human being gifted with a swift and educated brain and nimble steady hands can have such an impact on so many lives by preserving and saving just one. It's no wonder Yusef Wade still wants to be just like Dr. Puccioni."
Yusef Wade's hair grew back and, after six weeks of therapy, he learned to walk again and then to run. Now a twelve-year-old healthy boy, Yusef wanted to play midget football like all the rest of his friends. He began to constantly beg his parents to let him play football. No way! His parents vowed. Not after brain surgery and four plates in his head would they ever allow their son to play a contact sport—especially not football! Otha Wade, a former all-state football player at St Pius X in Lincoln, Nebraska and an all-conference player at Nebraska Wesleyan College, explained to me why he was so against it: "I know how hard football is and the beating your body takes and I was not going to allow him to play! Not after seeing him near death like that."
End of Part I
Click link to See Part II: "Wade: The Football Player"
Featuring interviews with: Legendary University of Nebraska track and field sprinter Charlie Greene
Redzone Leadership Academy founder Yano Jones and Lincoln North Star DB/RB Yusef Wade.