Lifesaving Brain Surgery Sparks Star HS Football Player's Ambition: Part II of II

Wade: The Football Player
By Will Cummings
myHitNews.com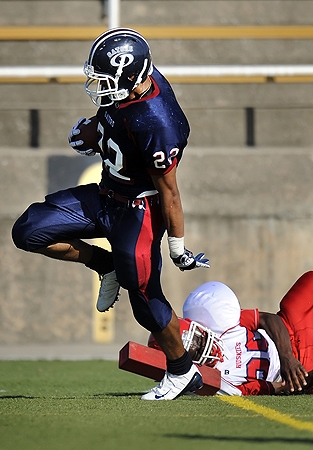 Rose and Otha mellowed with time: "I figured I had to let the boy live his life. So after the doctors checked him out and medically cleared him and assured us that his brain was completely healthy and his skull was actually stronger than before, we told Yusef that he could play football. But to tell you the truth, secretly, Rose and I were hoping that he got the wind knocked out of him after his first hit so that he would want to quit," Otha said. Yusef did not quit! Instead, little Wade became a pretty good midget football player and by the time he turned fourteen–he had another ambition:
"I started playing and thinking I want to be good enough at this [football] to be the first of my father's three children to go to college without him having to pay for it," Yusef said.
Yusef, attended Northeast High School where he became a two-way starter as a sophomore and a letterman in basketball and track. It was about this time that Otha began to realize his son's potential, so he began searching for the best mentors and off-season football conditioning programs that he could find to help Yusef get better.  Otha finally selected the Redzone Leadership Academy as the place he thought would help Yusef the most.
Redzone is an off-season football training program located in Omaha, which meant that Otha and Yusef would be making a twice-a-week, 110 mile round-trip from Lincoln to Omaha and back. Otha considered this investment worthwhile considering the reputation of Redzone's founder, Yano Jones. Yano is fairly well-known as a football guru-type figure around the Omaha area, due to the numerous top high school football players that have trained with him during the off-season and who went on to be successful D- I and D-II players.  In addition to seeking out Jones, Otha enlisted the services of his friend, the legendary University of Nebraska track and field great, Charles (Charlie) Greene— 1968 Olympic track and field gold and bronze medalist and former 100 meter world record holder–to mentor and help train his son. Since his Olympic glory days, Greene has worked to improve the speed and performance of many professional, college and high school football players and track athletes.
The Black Hole
In November, shortly after the conclusion of Yusef's junior football season, Otha Wade informed the Northeast school administrators that his son would be attending Lincoln North Star for his senior year, but would remain at Northeast for the remainder of the school year. The decision was based on Rose and Otha's displeasure with the school's athletic department.
His parents decision meant that Wade would have to endure the discomfort–for six long months–of knowing that he would be leaving his longtime friends and wouldn't be able to graduate with them. That was bad enough, but things got even more tenuous for Wade when the Northeast head football coach resigned two weeks latter.
This combination of events proved to be almost disastrous for Wade's hopes of getting a football scholarship: The Northeast's football staff was in a state of flux, which meant that there was no one at the school for Wade to rely on to send his game film to to colleges or to promote him to recruiting services and media. Besides, why should they care about promoting a student that was–going to another school next year!
Wade was now in a black hole–a place where colleges didn't even know the senior-to-be existed. That's a real bad place to be if you want a football scholarship. Wade would remain there–in that black hole–until the following April.
Wade's Big Break
Last April, Wade got his big break when the coaching staff at North Star somehow managed to get a hold of Wade's junior year film. Lincoln North Star Head Football Coach Mark Waller and Assistant Coach Russell Plager were so impressed by what they saw on film that they made a highlight video of Wade and delivered it to the Nebraska Cornhusker coaching staff. Consequently, the Huskers staff sent Wade a last-minute invitation to their annual Spring Football Game after reviewing his highlight video.

As Wade's highlight film began to circulate, Oklahoma, Kansas, Iowa State and Kansas State sent him letters expressing interest and asking him to attend their camps; his profile was finally posted on Rivals.com and he received his first scholarship offer from North Dakota, during the month of June.
Wade on a Mission for Speed
Wade realized that he needed to get his forty time down in order to have a good showing at the college camps. So in May he began working one-on-one with Yano Jones and Charlie Green to improve his speed. Seemingly, their worked paid off as Wade wound up shaving nearly a tenth off his best time when North Star coaches clocked him at 4.48 in early August. However, both Jones and Greene were disappointed with the results: They believe Wade is capable of running much faster, and both contend that Wade's camp visits during the summer and the inability to coordinate their schedules (Jones-lives in Omaha and as you will learn below, health issues curtailed Greene's involvement) prevented them from getting the full workouts they needed to get Wade to what they believe is his optimum time—sub 4.4.
Charlie Greene Gives His Thoughts On Wade
The following are excerpts from a phone conversation I had with Charlie Greene about Yusef Wade
: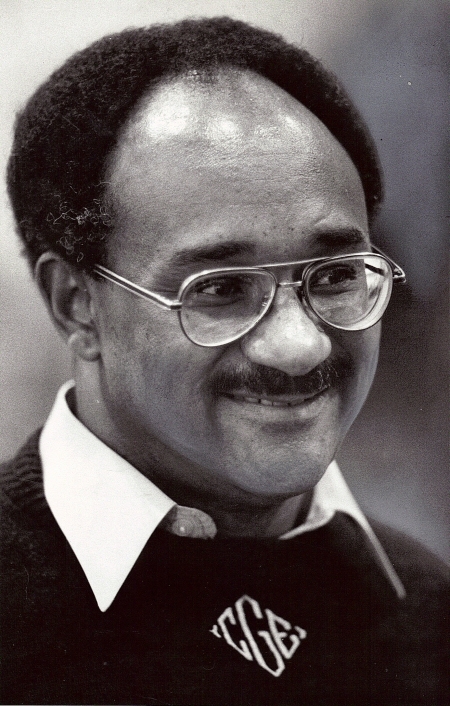 Q. Thanks for taking my call Mr. Greene. I just want to start out by saying I hope that you are feeling well: I understand that you have been going through dialysis and need a kidney?
A. Thanks. Yes Ive been going to dialysis three times a week and waiting for a kidney match. It's rough some days but I'm confident everything will tun out all right.
Q.  The reason for my call is to ask you about Yusef Wade; I hear you worked with him this summer on his forty speed.  How did it go?
A.  I've worked with Yusef for about three years but this summer we specifically worked on his 40 time. I'll tell you right now, the young man is capable of running in the 4.37 range. We just didn't get enough time in to do it.
Q. Yano told me the same thing. Not to downplay him but coming from you… I mean you know speed and you have worked over the years with a lot of quality athletes–what do you think about Yusef?
Yusef is the kind of athlete that just needed to be in the right situation to shine—at a place and in a position where his natural athletic abilities could flourish. At Lincoln Northeast, he played DB and WR. Well, his team didn't throw much and he was lucky to get four or five touches [catches] a game. And at DB most teams in Nebraska don't throw the ball much either, so he couldn't show a whole lot on defense as well.
Now he goes to North Star and they put him at running back, a position where he gets 15- 20 touches a game and then we can all see his talent.
Yusef, clearly is a running back but he can play DB too. He has great vision. Yusef is a very quick, instinctive runner who hits the hole hard, runs hard, can make people miss, and has very good yank (Greene's terminology for burst.) He also gets a lot of YAC (yards after contact). Physically and style wise he reminds me of the Cal Berkley kid Best (Jahvid Best (5-10, 185) RB University of California). He is a creator; he can make things happen on his own. They (North Star) haven't thrown him the ball, but they should. He was a starting wide receiver for two years at Northeast and he can catch! Throw it to him in the flats and he has the quickness and ability to create a big play.
Q. What Do you think Yusef's prospects are at the next level?
A. It's too bad he just started running the ball this year. He is still learning but he has the natural talent and quickness to become a very good D-1 college player at the right school. He's about 175 now: A redshirt year and a good strength and conditioning program to put 15 pounds on him; he will play at about 190 and he will have a lot of power to go with his speed, quickness and natural ability.
Q. What can you tell me about Yusef the person—his character?
A. Yusef comes from a good family and is fortunate to have something many African-American kids don't have—a two parent home. That means he has learned the right and wrong ways to act in all environments.
"Yusef is the kind of young man that you would be happy to have as your son."
Yano Jones Talks About Wade
Excerpts from our phone conversation: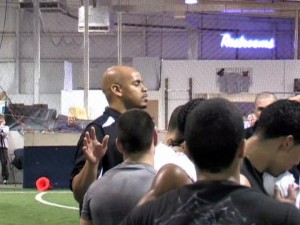 Q. Yano, you have been working with Yusef at Redzone and in one-on-one training sessions for two years now, what would you say about his work ethic?
A.  I would say it is amazing. The fact that he's been traveling up here all the way from Lincoln two days and sometimes three or four days a week says a lot. He is really a good kid—a good person.
Q. This summer you specifically worked one-on-one with Yusef on improving his forty, can you tell me about that?
A. Well, you know most high school kids have no clue on how to run a forty and Wade was definitely one of those kids. I worked a lot with his start and getting more power and length in his stride by running my hills (a set of hills in his back yard.) The problem though is we could never line up schedules to get all the workouts in that he needed.
Q. If you got all those workouts in what do you think he is capable of running?
A. No doubt! He is capable of running a sub 4.4. I can't say that with every kid, but I've worked with a lot of kids to know which ones can. He has all the basics to get there. He just needs to fine tune some technique and generate a little more leg drive: That will allow him to cover more ground with each stride. I got to get him doing that hill work on a consistent basis and he will be there.
Q. Finally, did it surprise you that he has done so well thus far at RB?
A. No. Yusef is a quality athlete–definitely one of the top ten prospects in the state. He told me over the summer that his coach was thinking about trying him at running back so we also worked on a lot of RB drills too.
Lincoln North Star Makes a Difference
Last November, Wade's parents took a big risk with their son's ambition to garner a football scholarship when they decided to transfer him from Northeast to North Star for his senior year. A risk that–unbeknown to them at the time–would set the stage for the pivotal event that put Yusef on the map:
Lincoln North Star coaches made the highlight film of Wade back in April and delivered it to the Nebraska University coaching staff. If that event would not have occurred. There would have been no profile on Rivals, no interest and camp invitations from D-1 schools and no scholarship offer for Yusef Wade!
Lincoln North Star High school is a relatively new school having just opened its door in 2003. But North Star Navigator's ("Gators") head football coach, Mark Waller, has already begun to methodically build the program towards becoming a Class A powerhouse. Waller has taken his teams to the playoffs three of the last four years, which includes last season's 9-2 team that made it to the quarterfinals. That kind of success usually means that the head coach has a good staff around him. Running back coach Russell "Russ" Plager happens to be one of those staff members and he has played an important role in Wade's development.
There is no doubt that Wade is an instinctive runner and possess natural quickness, speed and elusiveness, but so do many other high school backs. However, what distinguishes Wade from many high school backs is the way that he runs: With an attitude to run between the tackles and the speed to reach the corner, Wade hits the hole quick, hard and square, with good pad level, driving his legs to fight for every inch, always looking for that sliver of light to burst through or a would-be-tackler to bounce off of or over.
That's good coaching! Plager has done a real nice job with Wade in so short a time."
With a good line in front of him, led by the likes of 6-foot-five inch, 290 lb Ohio University recruit Bryce Dietz, and up-and-coming, 6-foot-3 inch, 275 lb Savontae Brown, Wade has been able to produce nearly 650 yard of rushing, averaging over eight yards a carry and 8 TD's for the Gators. More impressive, is the fact that
Wade has accumulated his season offensive totals while playing full time at DB, and only playing part time at RB–he rotates in on every other offensive possession."
A Conversation With Yusef Wade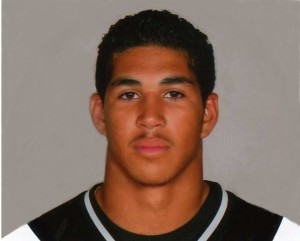 Q. Yusef, I have known you since last February but I just recently found out about your brain surgery. You are a lucky young man to just still be here. What do you remember most about that experience?
A. The things I remember the most are going into the operation room before the surgery and being really, really hungry and then getting the mask put on me, Then, right before I fell asleep, hearing my dad yelling at the nurses about something.
I remember waking up, but mostly the thing I remember most is trying to learn how to walk again.
Q.  So far, is your senior year what you expected it to be?
A. Actually it is better than I imagined. I really like the coaches and the guys on the team, the school, and running the ball. Coach Plager (running back coach) has shown me a lot. And I have a good line. Dietz (Bryce Dietz holds offer from Ohio University) and Brown (Savontae Brown, a good looking prospect that followed Wade from Northeast to North Star). We also have other big play guys like Dillion Schrodt so it's hard for them to just key on me. That all makes it easy for me to do my thing.
Q. Its pretty amazing that you just took off as a running back this year and you haven't played the position since eighth-grade, who or what has helped you the most to do that?
A. Coach Plager, our running back coach, has helped me out a lot, showing me things and always getting on me about my running and stuff.
Q. Where do you stand with the offer from North Dakota?
A. It was the first offer, if I don't get any D-1A offers they will be definitely tops on my list because they were first.
Q. What do you want the most out of this season?
A. A state championship would be nice.
Q. But what about your personal football goals?
A. I just want to get a scholarship at a school where I can play against the highest level of competition out there, because I know I can compete against the top guys. For two years I've trained with and gone up against a lot of them at Redzone and at D-1 camps this summer–I can hang.
Q. You have also wanted to be a brain surgeon since the operation; is the desire still there and why?
A. Yea! I still want to be a brain surgeon. Dr. Puccioni is the reason I'm here and normal. I just liked him from the beggining and all the stuff he did. I feel that it is my calling. I really want to be able to help save others like he did for me.
Q. Finally, If you had to choose between being a brain surgeon or being a D-1 college football star which one would you choose.
A. Both! I can do that can't I?
myHitNews recognized Wade last May as one its
Class of 2010 Preseason Top Ten Nebraska High School Football Prospects
for his athleticism and potential at the next level as a DB or WR. When we made that selection–we had no idea that North Star would convert him from WR to a dangerous and highly productive RB. This development certainly adds a new dimension to this prospect–that is: RB or DB? He can play both!
There is a lot of talent, athleticism, and versatility in Yusef Wade!"
His success on the football field or anywhere else should be of no surprise to me. After all, thanks to his mother's strong intuition and Dr. Puccioni's skillful work, Yusef Wade found the will and strength to survive three major brain operations in eight days and to learn to walk again.
Wade has a lot of upside! I agree wholeheartdly with Charlie Greene when he said:
"He (Wade) has the natural talent and quickness to become a very good D-1 college player at the right school. He's about 175 now: A redshirt year and a good strength and conditioning program to put 15 pounds on him; he will play at about 190 and he will have a lot of power to go with his speed, quickness and natural ability."

Charlie Greene, Olympic Track and Field Gold & Bronze Medalist
and former 100 meter world record holder
No matter where Wade lands, the school that gets him will have a player with the athleticism and ability to play at a high level on either side of the ball. More importantly, they will get a young man of good character and a fine student that carries a 3.2 GPA, while taking accelerated college preparatory coursework.
A college with Yusef Wade on board may also one day end up being very grateful for Children's Hospital and Dr. Mark Puccioni for saving his life.
Click link to read: Part I "Lifesaving Brain Surgery Sparks Star HS Football Player's Ambition" :Wade Eternally Grateful to Children's Hospital and Dr. Mark Puccioni.