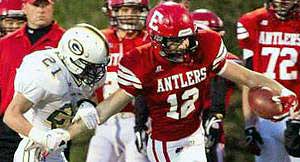 The Perennial Parade of Nebraska High School Football Seniors Begin Making Their Pledges to Walk-on at Nebraska
Latest news on division 1AA Offers/Commitments: Chris Weber, Elkhorn H.S.
Weber, a 6-3, 205, LB with, listed, 4.7 40-yard-dash speed, picked up offers from FCS South Dakota State and North Dakota. Weber was a first team All-Area selection in 2012 for Elkhorn High School.
Last Updated January 27, 2013 at 7:10 pm. 
Nebraska High School Football
Class of 2013
College Offers & Commitments

Prospect Name, Ht, Wt, Pos(s)




High School

Known Offers

Commitment

NCAA FBS (Division 1A)

Josh Banderas, 6-2, 220, LB




Lincoln Southwest

Nebraska, Iowa, Iowa State, Kansas State, Oregon, Tulsa, Vanderbilt

Nebraska

Christian Lacouture, 6-5, 270, DE




Lincoln Southwest

Nebraska, Alabama, Auburn, Baylor, LSU, Michigan, Missouri, Oklahoma St., Texas, Texas A&M, Texas Tech, Utah

LSU

Casey Sayles, 6-5, 265, TE/DE




Omaha North

Bowling Green, Ohio, South Dakota

Ohio

Nathan Bazata, 6-3, 245, OG/DT




Howells

Iowa, South Dakota State

Iowa
Jake Schlager, 6-1, 190, DB
McCook

North Dakota State, SE Missouri State, South Dakota, South Dakota State

Colorado State

Michael Minter, 6-1, 180




Lincoln North Star

Purdue, South Carolina (offers before senior season and not likely to stand)

NCAA FCS (Division 1AA)

Tyler Wrice, 5-9, 175, ATH




 Papillion-La Vista

North Dakota State, University of Northern Iowa, Illinois State

North Dakota State
Nick Deluca, 6-3, 220, LB
Milliard North

Ohio, North Dakota, South Dakota, South Dakota State, North Dakota State 

North Dakota State 

Vinny Ross, 6-5, 265, OL




Perkins County

North Dakota

Colin Mertlic, 6-2, 190, ATH




Blair

South Dakota

South Dakota

Luke Worden, 5-9, 170, ATH




 Scottsbluff

South Dakota

South Dakota

Lee Carhart, 6-5, 275, OL




Omaha Creighton Prep

University of Northern Iowa

University of Northern Iowa

Chris Weber, 6-3, 200, LB
Elkhorn

South Dakota State, North Dakota

Nebraska Walk-Ons 

 

 

Steven Graeber, 6-1, 250, DT, Millard North 

Spencer Lewis, 6-2, 210, WR, Papillion-La Vista

Zach Stovall,  5-11, 185, DB, Bellevue East

Jordan Ackerman, 6-3, 240, TE, Lincoln Southeast

Connor Ketter 6-5, 220, TE, Norfolk Catholic

Desmond Robinson, 5-9, 155 WR, Lincoln Southeast 

Chris Weber, 6-3, 200, LB, Elkhorn

Erik Evans, 6-3,TE, 220, Waverly 

Jordan Bellar, 6-0, 165, P, Norfolk Catholic

NCAA Division II

Bryce Sheard, 6-3, 186, WR 




Papillion-La Vista

NW Missouri State, Wayne State, Minnesota St-Mankato, Emporia State, Washburn, Northern State

NW Missouri State

Nate Rogers 6-4, 170, WR




South Sioux City

Wayne State

Wayne State

Blake Johnson, 6-4, 200, DE




Elkhorn South

Truman State

Truman State

Bennie Olson, 5-9, 170, Ath




Millard North

Wayne State

Wayne State

Tyler Hoppes, 6-4, 225, TE




Lincoln Southwest

Wayne State

Wayne State
NAIA

Junior College
Offer(s)/Commitment Email Form
[contact-form][contact-field label='Name' type='name' required='1'/][contact-field label='Email' type='email' required='1'/][contact-field label='Enter Prospect Information' type='textarea' required='1'/][/contact-form]
Related Links
2012 All-Nebraska & Super-State State Football Teams
2012 All-Metro, All-City, All-Area Football Teams
MHN Class of 2013 NE H.S. Football Prospects Board
Helpful Links
2013-2014 College Football Head Coach Changes—NCAA FBS
2012-2013 NCAA Football Recruiting Calendar
NCAA FBS College Football Contact Info: Address, email, phone, fax