By Jon Preister
Contributing Writer
myHitNews.com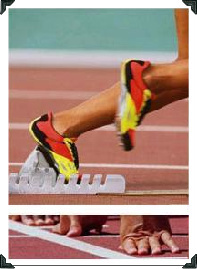 This Week's Track & Field Meet Previews
With Conference and District meets just around the corner, this week presents some interesting challenges for many coaches. Track and field coaches face tough decisions on what to do this week, as the next two weeks will likely put a heavy toll on their athletes. Do you rest your athletes altogether and not enter a meet, do you reduce the load on your stars hoping to rest them for the long haul, or do you go out and compete not breaking from routine? Different school coaching staffs–as we will see– will take different approaches in preparation for the upcoming area championship and district qualifying meets.
Well, onto the meets at hand:
Week's Big Meets
If you are looking for a show this week on the boys side then head out to Omaha North on Thursday.The top ranked Bearcats from Kearney will roll into the Metro to take on many of the top teams in the area. Fremont, Omaha North and Omaha Central will make another effort to see how they stand up against the unanimous number one choice. The other major meet for this upcoming week will be in Lincoln as they host their city championships. #9 Lincoln Northeast and #10 Lincoln North star look to be the top contenders to take home the team title, but it could turn in to a battle as Lincoln Southwest and Southeast are the leading contenders to break into the top ten.
The girl's side looks to be a week for the top teams to prove they deserve the number one ranking. With strong showings by Lincoln Southwest at Norfolk, Kearney at Lexington, and Westside in Lincoln, they all look to prove where they stand before heading into conference and district meets. Kearney and Lincoln Southwest will get a chance to make their point against some tough competition at the North Invite and LPS championships. Kearney will have to fend off #5 Omaha Central, while Lincoln Southwest will have to hold off Lincoln Southeast. The team that shows up the strongest will more than likely head into next week with the No.1 ranking.
Field Event Showdowns of the week:
The event to see this week is going to be the long jump out at Omaha North. Ted Lampkin from Omaha Central and Jack Chatelain out of Kearney both broke the 23-foot barrier at their respective meets last week. This is setting up to be a classic that pits the veteran Chatelain against the new kid on the block Lampkin. These two better watch out though as this field is loaded with 21+ foot long jumpers–anyone of whom could steal the show with a PR.
While a good view for the boys long jump is a must out at Omaha North, if your heading to Lincoln for the LPS championships make sure you don't miss the triple jump. This field is stacked with 44+ foot triple jumpers. Porter Groves leads the field at 46-9 and will be joined by three other jumpers in the top ten: Vino Brown (LSW), DJ Barrito (LNS), and Cornell Leffler (LSE). The winner here could grab the edge for what will be a likely rematch of these jumpers at the state meet a few weeks from now.
On the girl's side, before you catch a very entertaining long jump, you might want to go over to watch the girl's high jump. This field has the potential to have 3 jumpers that go 5' 4" or higher. Katie Smith from Kearney could be facing not only one 5'4 phenom in Avery Welton, but she may also face Central's LaQue Moen-Davis if she is entered in the field. This could be a dynamic field with the winner possibly jumping to the top of the state charts.
Races of the week:
There is no question what the marquee event will be this Thursday: The 100-meter dash out at Omaha North is set to be a throw down that pits the best of the west with fastest in the metro. Kearney brings in two sub 11 sprinters in Josh Mead and Vince Molina who will square off against a trio of Omaha North sprinters which is fresh off a 1-2-3 finish at the Harold Scott invite. All these guys are under capable of winning this race so don't blink or else you could miss it.
The other event to keep an eye will be in the 1600 in both the North Invite and the LPS championships. At North the state leader, Mitch Hunt from Fremont will be trying to hold off David Prater from Kearney. If conditions are right you could see one of these runners go under 4:20 for the first time this year. In Lincoln you will have three of the top milers possibly entered in this showdown. Trevor Vidlak (LNE), Derek Schnell (LNS), and Parker Schoen (LSW) could face off for this championship in what could be a very fast 1600.
On the girl's side it appears that the hurdles might be the events to watch this week. First there are two battles shaping up in the 100 hurdles. The first one at Omaha North has LaQue Moen-Davis looking to continue her march through the field as she looks to fend off Brandi Winchester as these runners sit 1 and 5 respectively on the state charts. The race out in Lincoln though could be shaping up to be a battle to the finish though as Joslyn Soucie (LSW) and KK Houser (LSE) sit at numbers 2 and 3 on the charts with both having times of 15.1.
The last event that is a don't miss will be the girl's 400 out at the LPS championships. This event has 5 runners that will be looking to run under 60 seconds in this race. They all own career PR's that put them in this field. Jade Perry from Lincoln Northeast appears the front-runner, but will have to hold off charges fromAmanda Brown (LSW), Karly Piper (LSW), Avery Brown (LHS), Keanna Moody (LNS). This is a must see as you could see a couple girls go in the high 57's or low 58's.
Hope you get out to catch what looks like an entertaining week of track field and a nice little warm-up to some huge match-ups next week as we will be heading into conference meets. Hope to see you out there.
Related Links:
2009 Track Meet Schedules
2009 Nebraska High School Track & Field Leaders