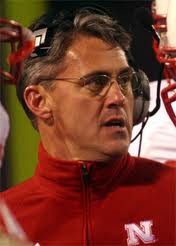 Nebraska Offensive Coordinator Shawn Watson Has Had Plenty Of Time to Prove His Worth
Nebraska's demonstrated inability to mount and to execute consistent offensive performances during games cost them a Big 12 Championship Game win against Oklahoma, Saturday night in Arlington Texas. No matter how good a defense a team has—the Huskers have one of the best in the land—if the other half of the equation is unable to reliably drive down the field and deliver points that team will not win championships in any conference.
Tom Osborne hired Bo Pelini because he wanted a defensive-minded head coach that could bring back the swagger of the Blackshirts.  Bingo. Pelini delivered! Now in order for the Huskers to become a true national championship caliber team they need an offense that can consistently produce points. Accordingly, the Huskers need an offensive coordinator that can make it happen. 
Shawn Watson, the lone holdover from the Bill Callahan era, has been in charge of the Huskers' offensive for four long years (five years as QB coach) and has failed to produce an effective offensive scheme and/or to assemble and develop the kinds of quality recruits necessary to successfully compete on an elite level.
Watson has been given more than enough of an opportunity to prove he can deliver the goods. He has not. And anyone who believes that Watson will deliver a worthy offense in the future is basing this on what?  His proven record of developing high quality quarterbacks? His ingenious game plans? His ability to recruit?  His brilliant game time adjustments?  His canny play-calling in big games?
The 2010 Big 12 Championship Game Was Just a Microcosm of All that Ails Nebraska's Offense.
It started with the game time decision to start a gimpy, rusty freshman QB, Taylor Martinez,  and then keeping him in the game after watching him continually make bad decisions and poor throws and being unable to effectively use his biggest weapon—his legs. The futility of the night was compounded by Watson's decision not to give backup QB Cody Green a single snap to see if he could bring the O to life. Instead, Watson turns to Rex Burkhead and the Wildcat.  With 6:39 left in the game and the Huskers on the Oklahoma 39 yard line, the whole picture of Watson's usefulness was crystallized.  
The Huskers were well within range of a of a game-tying Alex Henerey field goal. They got there by three successful Rex Burkhead runs out of the Wildcat. If Watson is paying attention to the game he knows that the O-line was not protecting Martinez all night long.  But Instead of playing the percentages under these circumstances by continuing to run the ball, Watson calls two pass plays.  One is a straight back drop pass. Guess what?  It's another sack that takes the Huskers out of field goal range.
Sure we can talk all day long about how it is ultimately the players' responsibility to execute plays, but when your offensive coordinator consistently makes decisions that lower the percentages of success and is unable and/or–refuses—to adjust to what he sees happening on the field, then Husker fans can only look forward to more of what they witnessed last night and what they have been accustomed to seeing ever since Watson arrived on the scene.
Cody Green is 4-0 as a starter. He played well in last week's win over Colorado, but Watson never turned to him once despite what everyone watching the game saw—an ineffective non-threatening and struggling Taylor Martinez.  So What does that say about Cody Green?
Keep in mind that Watson is also the Nebraska's QB coach.  And the fact that he would rather rely on a makeshift QB in Burkhead and a hobbled ineffective freshman QB rather than give sophomore Cody Green the time a day speaks volumes about Shawn Watson's recruiting prowess, player development, game preparation and in-game decision making.  Shawn Watson has proven he is unable to deliver in these areas.
The Huskers have one side of the ball figured out: Now it's time for them to do the same on O.
It's time for Nebraska to find a topflight offensive coordinator that can deliver championship caliber: scheme, player development, recruiting, game time adjustment and play calling. To do otherwise is taking a huge gamble that this current offensive coordinator will somehow pull a rabbit out of a his empty hat and deliver an offense befitting a championship caliber team.
Related Links
Omaha World-Herald staff writer Dirk Chatelain recently wrote a very good and timely article in regards to Nebraska's offensive woes.  Chatelain: Mere tweaks won't fix what ails NU offense.