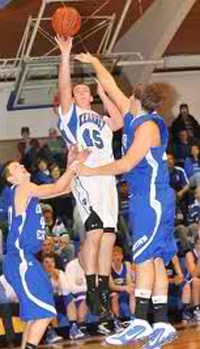 Closing Out Class of 2011 Could Be Rocky Proposition
In recent years Nebraska recruiting classes have produced at least at least 1 late offer during the months of December and January.  However, with all the conference realignments and coaching changes currently taking place, the 2011 class is not indicative of a normal recruiting cycle. 
Nationally, the last several high school football recruiting classes have seen a dramatic drop in the number of D-1A prospects that have changed their college choices once they have made a commitment. Yet this current volatile environment could test that trend during the final two months of the 2011 cycle. Therefore, this December and January could be more challenging than ever for D-1A coaches trying to solidify their commitments, which in turn could produce a lot more last minute jostling for prospects than we have recently become accustomed to seeing.
So far, 8 class of 2011 Nebraska high school football prospects hold D-1A offers:
Nebraska Class of 2011 High School Football Prospects W/D-1A Offer

Prospect, Pos, (Ht, Wt) High School

Commitment

Zach Sterup, OL (6-8, 260) Hastings St. Cecilia Catholic

Nebraska

Ryne Reeves, OL (6-3, 300) Crete

Nebraska

Daniel Davie, DB (6-0, 185) Beatrice

Nebraska

Cole Fisher, LB (6-3, 190) Millard North

Iowa

Ted Lampkin, ATH (5-7, 159) Omaha Central

Iowa State

Derrius Vick, QB (6-2, 180) Lincoln Southeast

 

Nate Skold, OL (6-8, 280) Omaha Westside

 

Brandon Yost DL (6-1, 250) Millard West
Below is a list of MHN's Best of the Rest Nebraska Class of 2011 Football Prospects not currently holding a D-1A offer. Most of the prospects listed should at least receive D-1AA offers (some already have) and or D-1A walk-on opportunities. Of course, a D-1A offer is also a possibility for at least one or two of these players. On the other hand, do not be surprised to see a D-1A offer given to a Nebraska prospect not listed below–it's almost a certainty that D-1AA offers will be made to unlisted prospects.
 

Best of the Rest


Top Class of  2011 Nebraska High School Football Prospects Not Holding  A D-1A Offer

Prospect, Pos. (ht., Wt.) School

Offers and Reports*

Jimmie Forsythe, QB (5-11, 180) Omaha Burke

South Dakota, South Dakota State 

Tiras Bolton, ATH (5-11, 170) Omaha Westside

 North Dakota

Derek Chancellor, OL (6-5, 290) McCook

 South Dakota

Quentin Urban, ATH (5-11, 185) Millard South

 South Dakota

Ben Muff, LB (6-1, 200) Crete

North Dakota State  

Brock Sherman, LB (6-0, 223) Crete

 

Jordan Wisdom, DE, (6-2, 235) Millard South

 

Devin Bass, DB/ATH (5-10, 172) Millard North

  Drake

Josh Couch, DB (6-1, 175)Millard North

 

Tyler Shields, WR (6-3, 200) Kearney

 

Will Sailors, OL (6-4, 250) Lincoln Northeast

 

Elijah Tostenson WR, (6-1, 190)

 

Brandon Bryant, LB, (6-1, 229)

 

Ryan Wheeler, LB (6-4, 244) Millard North

 

Richard Wynne Jr., RB (5-8, 176) Creighton Prep

 

Tyson Broekemeier, QB/ATH (6-1, 170) Aurora

 

Nehemiah Wilkins, ATH (5-11, 190) Boys Town

 

Eddie Ridder, DL (6-6, 225) Mt. Michael Benedictine

 

Nate Kroupa, LB (5-11, 215)

 

David Sutton, DE, (6-4, 230) Lincoln Southeast

 

Eddie Collins, ATH (5-7, 165) Millard South