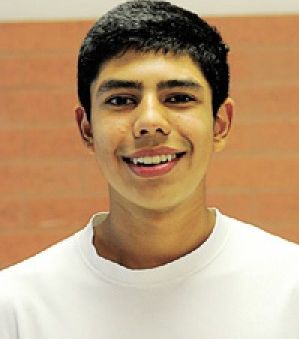 Fans in attendance at the Millard South Invite, on Thursday, were treated to witnessing Fremont sophomore Danny Aldaba run the 3rd fastest 1600m (4:12.24) in Nebraska High school history. His time was less than 2 seconds shy of the all-time best mark of 4:10.44 ran in 2004 by Kearney's Colby Wissel.
Aldba first caught my attention last year at this very same Millard South Invite (click to read article) when he nearly lapped everyone in the field on his way to capturing 3200 meter gold with a season best time of 9:29.30.  
On that day the Fremont sophomore with the powerful yet effortless stride looked destined to have a high school career that would see him make a steep climb up the all-time distance charts.  
Unfortunately, Aldaba's outstanding 3200m performance at last year's Millard South invite would be his best run of the season. He went on to win the Class A 3200m at the state meet but his 9:34.14 time wasn't good enough to beat out the Class B winning time of 9:32.50 ran by Mount Michael Benedictine's Thomas Feichtinger. Aldaba placed 3rd in the Class A in the 1600m (4:25.47).
So with last season as a back drop—have we already seen the best from Aldaba in 2012?
Hmm, that will be up to him and the luck of staying healthy. However, I'll tell you right now that Danny Aldaba certainly has the physical ability to become Nebraska's best ever boy distance runner.
The question is: does Aldaba have the mental toughness to achieve such greatness.
We shall see.
Freshman Watch:
Malik Hluchoweckyj, Fr., Bellevue West—leads the state with 6'8" High Jump.
Keep tabs on this multi-sport freshman phenom (basketball). He jumped 6'8" at the Millard South Invite  to take out the previous No. 1 Bryce Sheard  (6'7"). 
Kenzo Cotton, So., Papillion—Last year's freshman phenom is proving that it was no fluke. He currently holds the state's fastest 100m time (10.82) and 200m time (21.82). He has a strong chance to climb into the all-time 200m chart, which has not been done by any athlete since 2001. It takes a 21.40 or better to claim a spot here.
Bryce Sheard, Jr., Papillion—Despite his defeat in the long jump Sheard  managed to improve his state leading triple jump distance with a near all-time chart leap of 47'6" (only 10" shy of the 48'4.25" chart minimum). 
Dylan Utter Sr., Papillion the Nebraska preferred walk-on football player took over the top spot in the shot put with a early season heave of 58'9." Will he clear 60' by season's end?
Justin English, Sr., Grand Island—His state leading 23'.50" long jump is not far from the seldom reached 24' mark.?
Clara Nichols and Morgan Woitzel, Seniors, Millard South—Nichols ran a state-leading 2:17.10 800m at the Millard South Invite to edge out teammate Woitzel (2:18.03).
Based on her PRs and senior season marks, today, Nichols would be the favorite to win all-class gold in the 100m, 200m, 400m and 800m at this year's state meet. It's never been done! Just wondering out loud if that will be an option at season's end for Nichols and her coaches if things remain as they are. But still you can't count out the possibility of Woitzel winning the 400 and/or 800, especially now since it looks like she has fully recovered from her injury. Both girls already hold all-time chart marks in the 400 and at this early point in the season and they both look poised to make a runs into the 800m charts as well.
Tierra Williams, Jr., Auburn—in the long jump she holds the No. 9  all-time mark at 19-2.5. She is looking to improve on that this season plus make her way into the triple jump charts. She currently leads the state in both jumps 19-2.25 and 37-10 respectively.
Tess Merrill, Sr., Grand Island Northwest—Last season he 11-8 vault catapulted her to the No. 9 spot on the all-time chart. She has already cleared 11-7 this season. How much higher will she go?