Bulldogs Take a Bite out of No.1 Mustangs in Game of the Week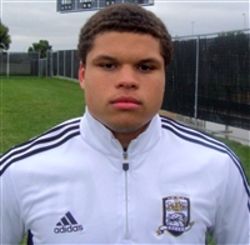 I said Omaha Burke was overrated at No. 2 and they didn't have any proven playmakers. Well, on Friday (and Saturday) they just proved me wrong on both counts by beating the defending Class A champs Millard North by a convincing score of 49-34. Ouch!
Obviously the Bulldogs are not skipping a beat after losing All-World Jimmie Forsythe. In fact Forsythe's heir apparent, junior QB Zach Cook, threw 4 TD passes in the game. Another emerging playmaker is senior RB Carson Collins. Listed at a bruising 5-11, 225lbs., Collins scored three TDs and churned up 136 yards on the ground.
Carson Collins may be a late blooming prospect to watch.
Expected big time performer Jordan Nelson scored on a 58 yard pass and 59 yard run, totaling over 100 yards rushing (112) and receiving (105) for the game. That's a nice show for the senior RB.
Could this be Paul Limongi's best team?
All I know for sure right now is that The Godfather certainly knows how to build a football program.
But don't get too cocky Burke Bulldogs because about half a dozen teams – including the team you just beat – look capable of winning a title.
2011 Nebraska Class A football is shaping up to be another wild ride to the finish.