Hot Nebraska H.S. Athletes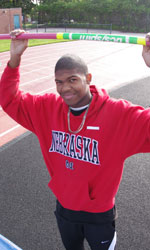 Jer' rell Moore, Omaha Benson—the senior leaper cleared the high jump bar at 6-feet 8 and ½-inches"at the Burke Relays. That's a monster height to clear so early in the season and on such a cool day. The feat places him well within range to clear the elusive 7-foot mark sometime this season—look out!
Moore placed eighth at state last year with a jump of 6′ 6″. His previous PR was 6′ 8″ also set last year. He holds the Benson High School record in the high jump event.
Ted Lapmkin, Omaha Central—the Iowa State football recruit could well be on his way to establishing some new records state records in the triple jump. Lampkin popped an impressive early season jump of 46' 5 ½" at Burke.
Allexis Menghini, North Platte— as a freshman she won the all-class bronze medal in the pole vault last year with a vault of 11' 2". The sophomore recently cleared the bar at 11-feet even to win an indoor meet at the University of Nebraska at Keanrey.