Top 25 sees big changes at the top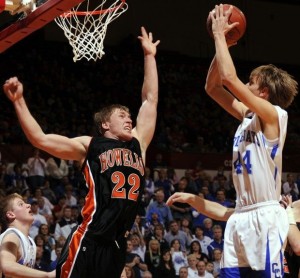 The MHN Early-Season Top 25 Nebraska High School Football Prospect rankings heavily reflects senior year performances to date, whereas the Preseason ranking leans almost entirely upon prospect offers, junior year performances and hype. With that in mind, a major change at the top was made and several new prospects entered the Top 10.

Our new No.1 Nebraska high school football prospect is Blair LB

Jake Schany

. He moves up from the No.2 spot to replace Preseason No. 1 pick Tavarius Bender.

The Kansas State QB recruit is off to a sluggish start in 2011 – not performing anywhere near what you would expect to see from a No.1 prospect or for that matter from a QB who holds a D-1 offer to play the position.

Long in potential but lacking in results, Bender, in my opinion, has not even shown that he is the best QB prospect in the Nebraska class of 2012. Fortunately, he has a lot of season left to prove this doubter wrong.

Derek McGinnis, Crete — He made the biggest move up the chart from out of the top 25 (my mistake) all the way up to No.7. The extremely poised 6-foot-2 Pro-Style QB led the Cardinals to a Class B state championship last season. He recently received an offer from South Dakota.

Ryker Fyfe, Grand Island — He's another off-the-chart Pro-Style QB prospect that now sits at No. 9. Fyfe has had a brilliant start to the season and is a major reason why the Islanders are 3-0 and ranked No. 2 in the state.

Terry Grigsby, Omaha North – He was not off the chart but barely on it at No. 23. Grigsby is now at No. 8, due to a great start in 2011. The talented Viking WR has 7 TDs in 3 games.

Brian Bayer, Howells — OK. I definitely got this one right. Bayer goes from No. 11 to No. 6. This 6-5, 230lbs.DE is something to see play. The kid could be special someday! He recently received offers from South Dakota and South Dakota State.

Kai Wolfe
, Alma — The 6-4, 290lbs OG settles in at No. 15.
Omaha Burke RBs

Jordan Nelson

and Carson Collins move into the charts at No. 24 and No.25 respectively – a good start to the season for both.
myHitNews.com

Early-Season Top 25 Football Prospects

Class of 2012

1.  Jake Schany, LB (6-2, 210)
Blair


Rivals 3 Star – 5.5; ESPN Grade 77




Goodies: High football IQ & solid measures.


Offers Tulane, Colorado, Ohio, North Dakota, Columbia, South Dakota State.


A very heady LB who possesses fluid instincts for the ball and knows how to use his hands and position his body to quickly shed and/or avoid blockers. Does not waste steps; takes good angles to the ball and is aggressive at the point of attack — solid tackler. He's the kind of prospect who could make an impact right away at the college level.

2. Tavarius Bender, QB (6-3, 208)
Lincoln Southwest

Rivals 3 Star – 5.6 & 20th ranked dual-threat QB in the nation; ESPN Grade 77

Goodies: 4.47 40 yd & 38″ vertical.


Committed to Kansas State

He possesses good base passing mechanics, evidenced by a nice high release point and coachable throwing motion — though he still has much room for improvement. His biggest weapon looks to be his elusiveness in the pocket and the ability to make the big play when things break down. Yet even with all his athleticism, Bender will still be a bit of a project to develop into a top flight college QB. However, he brings sought after goodies to the table: so this young man is worth the risk! Besides, K-State's Bill Snyder could be just the right man he needs to help mold him into one of the nation's best dual-threat QBs.

3. Mike Shoff, OL (6-6, 280) Cambridge


Rivals 3 Star – 5.5; ESPN Grade 76




Goodies: 4.8 40yd & 420 bench.


Offer: Iowa University, Kansas State, Florida International.

He has tremendous athleticism for his size. Only an ACL injury as a sophomore has kept this kid from being a bona fide four star lineman. That all could change with a healthy and productive senior season — he could end up at the top of this class.

4. Drew Ott, LB (6-3, 217)
Giltner


Rivals 3 Star – 5.5; ESPN Grade 75




Goodies: Athleticism w/34″ vertical.


Offer: Iowa (committed), Kansas State, North Dakota State, South Dakota State.


A very gifted all-around athlete — a diamond in the rough (being from a small Class D school) who shows the kind of talent to be further up on this list if he played in a higher school division classification. he demonstrates good fluid athleticism and good lateral range. This kid is a playa, baby!

5. Sam Cotton, TE (6-4, 225)
Lincoln Southeast

Rivals 3 Star – 5.5; ESPN Grade 76




Goodies: Strong bloodline & toughness.

Committed to Nebraska.


He is a tough, strong athlete with quality blocking skills, soft hands and a nice D-1 frame for a TE. He will become the third son of Husker O-line coach Barney Cotton to be on the NU roster — at the same time. Yet he could end up being the best one of them all.

6. Brian Bayer, DE (6-5, 230)
Howells

Rivals NA; ESPN NA


Goodies: Size, speed and aggressiveness.

Offer: South Dakota, South Dakota State.

He is quick and explosive DE who possesses a huge frame, 4.7 speed, and outstanding athleticism. Bayer is a violent player who brings along bad intentions when he gets to the ball carrier – a very good football player with tremendous upside.

7. Derek McGinnis (6-3, 200)


Crete

Rivals NA; ESPN NA

Goodies: Poise, size and accuracy.

Offer: North Dakota State.

A big, strong, athletic, pro-style QB who shows outstanding poise –without happy feet – when he is under pressure. McGinnis is very effective at throwing the deep ball on the money whether pulling out from beneath center or launching it from the shotgun. He also has agility to avoid the rush and enough speed to turn a busted play into positive yards.

8. Terry Grigsby, WR, (6-2, 190)
Omaha North


Rivals NA; ESPN NA

Goodies: 4.5 speed, size and sure hands.

A long-bodied physical specimen with 4.5 speed and 38" vertical. Grigsby runs smooth crisp routes, creates good separation coming out of his cuts and soft sure hands when making the catch. He is an effective receiver when crossing the middle or while in the flats, but his deceptive speed makes him especially dangerous on a post or a fly. In traffic he will run tough to pick up extra yards.

9. Ryker Fyfe, QB (6-4, 195)
Grand Island

Rivals NA; ESPN NA




Goodies: Size, arm strength, accuracy and mobility.


Offer: None reported.

This pro-style QB is a tall and very gifted all-around-athlete (baseball and basketball) with a canon for an arm – he won the longest throw comp at the Nebraska camp this past summer. More importantly, Fyfe is a Field General who displays good accuracy and touch, a nice release point and good foot work in the pocket. He also possesses the shiftiness, toughness and speed to make defenses pay when he is flushed.

10. Sam Foltz, DB (6-2, 185)
Grand Island

Goodies: 4.48 40yd, 38″ vertical and versatility.

Offer: None reported.

The First Team Nebraska Super-State selection in 2010 possesses an impressive football frame and good athleticism and 4.48 speed. Foltz is capable of playing a multitude of skill positions on both sides of the ball but is more often than not being recruited to play in the defensive backfield. Also, among the fastest 400 meter sprinters in the state – PR best 48.55.

11.

Matt Miller

, TE (6-4, 227)
Omaha Skutt Catholic
Rivals 2 Star – 5.3; ESPN 68
Goodies: 4.7 40yd & hands.


Offer: South Dakota.

A physical and rangy TE with good speed and sure hands who will attack and fight for the ball while in tight coverage. Miller is also a very effective blocker along the line of scrimmage and into the second level.

12.

Dylan Utter

(6-3, 300)
Papillion-LaVista
Rivals NA; ESPN NA
Goodies: Quickness.
Offer: Army, North Dakota.

He is an explosive DT (quick first and second steps off the ball) who also demonstrates decent shoulder-pad-level, good leverage and good range down the line. Nice hands and foot speed allow him to quickly shed defenders and get to the ball up the field, along the edges or into the second level. Utter can wreck havoc along the front and shows the ability to dominate opponents at the high school level — among the better defensive tackle prospects to come out of the state.

13.

Jordan Brichacek

, OL (6-5, 240) Howells
Rivals NA; ESPN NA
Goodies: 4.7 40yd & hands.
Offer: North Dakota State

Listed as an O-lineman, this very athletic, long-framed, wide-body prospect can also post up on the other side of the ball as a DE or DT – averaging nearly 9 tackles per game plus 8 total sacks in 2010.

14.

Ross Dzuris

, DE/TE (6-3, 230)
Plattsmouth

He is a very explosive DE with 4.6 speed. Dzuris has the kind of athleticism and football savvy to make plays all over the field.

15.

Kai Wolfe

, OG (6-4, 295) Alma

This quick and physical lineman simply overwhelms opponents at the Class D level. However, while attending college camps his past summer, Wolfe proved that he could hold his own against all comers.

16.

Garret Johns

, OL (6-2, 280)
Aurora

He was a First Team Super-State and All-Nebraska selection in 2010 and a four year starter at Aurora. Along the line of scrimmage, Johns plays effectively on either side of the ball. But it's at the center position where he shines the most, demonstrating very good quickness, footwork, balance and pad level.

17.

James Andersen

, OL/DL (6-4-300)
Omaha Burke

He is a strong well-balanced O-lineman with good feet and hands. Anderson shows good leverage and solid technique – he excels as a run blocker.

18.

Hunter Greer

, OL (6-6, 280)
Omaha Burke

He has great size — among the best measures in the class of 2012 for his position. Greer's size and solid fundamentals allow him to dominate most D-linemen at the high school level.

19.

Joe Jansnowski

, TE/DE (6-4, 220)
Creighton Prep

A very good blocking TE who seems to take pride in his work, He also is a very good DE — can play on both sides of the ball at the next level.

20.

Chris Bailey

, RB/LB (6-0, 215)
Millard North

He is a good, solid, tough-nosed football player with enough speed and athleticism to be productive at the college level.

21.

Shane Lentz

, FB (6-1, 215)
Millard North

This is a big tough cookie with 4.5 speed — another college-level football player from one of the state's perennial powerhouse programs.

22.

Ryan Flynn

, LB (6-3, 215)
Creighton Prep

A good, rangy, free-wheeling LB, Flynn is adept at moving through traffic and quickly closing the gap.

23.

Landon Arnold

, OL/DL (5-11, 250)
Millard North

He is a First Team All- Nebraska lineman that is undersized but gets the job done —can be effective at the next level with added bulk.

24.

Jordan Nelson

, RB (5-9, 165)
Omaha Burke

He is a small athletic back that can run between the tackles and catch the ball out of backfield — has knack for making the big play.

25.

Carson Collins

, RB (5-11, 225)
Omaha Burke

He is a, powerful, physical hard-running back who can take it inside or out.
Other Top Nebraska Class of 2012 Football Prospects
Joe Dugan, LB, 6-4, 210, Millard North; Will Burgess, QB, 6-1, 190, Omaha Central; Darian Barientos-Jackson, WR, 6-1, 180, Omaha Central; Jay J Parks, WR, 6-0, 155, Lincoln High; Dagan Worton ATH, 5-11, 192, Lincoln High;

Cale Korbelik, RB, 5-9, 180, Millard North; Tyler Pavich, RB/ DB, 5-9-175, Millard South; Brandon Stuart, QB, 6-1, 180, Bayard; DaVonta' Culliver, LB 6-2, 210, Westside; Michael Wickham, ATH 6-3, 180, Bennington; Dennis Barfield, ATH, 6-0, 180, Omaha Central; Roger Brohimer, RB/DB, 6-2, 185, Fremont; Levi Gipson, WR, 6-2, 180; Lincoln Christian; Drew Farlee, K , 6-0, 175, Norfolk; Spencer Lindsay, K, 5-10, 185 Kearney; Chase Sherman, 6-0, 270, OL, Crete; Graham Nabity, DB, 6-0,190, Elkhorn; Cole Chvatal, DB, 6-0, 170, Bishop Neuman; Malcolm Willett TE, 6-4, 225, Omaha Westside; Thomas Boles-Armstrong, OL/DL, 6-2, 255, Omaha Benson; Damone Avant, LB, 5-11, 190, Omaha North and T.J. Schindler, DL, 6-2, 280, Blair.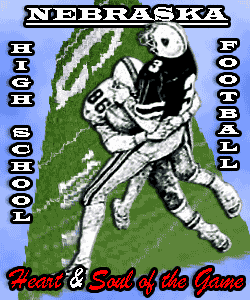 Related Links