Take the Poll: "Will Bo Pelini Ever Win a Big Ten Title at Nebraska?" Located at the bottom of this post.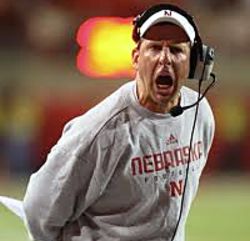 Now that the college football season is over and Bo Pelini has completed his fourth year as Cornhuskers head coach, It's a fitting time to ask the question "will Bo Pelini ever win a Big Ten championship at Nebraska?"
The 2011/2012 season started full of high expectations for Nebraska with many of the pundits picking them to win the Big Ten title in their inaugural season.  However, in their first Big Ten contest at Wisconsin things quickly went south, a 17-48 beatdown. A timely injury to Ohio State QB Braxton Miller and gutsy come-from-behind performance by Taylor Martinez allowed the Huskers to escape another tick in the loss column. Later on, Northwestern soundly defeated Nebraska in Lincoln and the Michigan Wolverines drilled them 46-17 at the Big House.
The Huskers finished the 2011/2012 campaign with a 9-4 record, which included the program's second consecutive blowout bowl loss: This time a 13-30 drubbing at the Capital One Bowl to Steve Spurrier's South Carolina Gamecocks.
Mind you, in only his second year as the Huskers head coach, Frank Solich led Nebraka to its last conference title by winning the 1999 Big 12 Championship Game.  During his next season, in 2000, Solich guided the Huskers to the 2001 BCS championship game, but he was fired in 2003 even after posting a 9-3 regular season mark.
In stark contrast Pelini has yet to win a conference championship or to even guide the program to an appearance in a BCS bowl game.
The Huskers coaching staff has been in a state of constant flux for the past two seasons: gone are offensive coordinator Shawn Watson and defensive coordinator Carl Pelini, along with stalwart position coaches Marvin Sanders and Mike Ekeler. 
In replacing his coordinators, Pelini has chosen to look inwards to his current staff rather than locking in more experienced and/or proven coaching talent.
Newly appointed offensive coordinator Tim Beck struggled this past season trying to figure things out. More than likely the yet to be tested defensive coordinator John Papuchis will encounter a similar fate. Further complicating matters for Papuchis is that he will head a defense that loses All-Americans Alfonzo Dennard (DB) and Lavonte David (LB) and all-conference DT Jared Crick, painting a bleak picture for any aspirations of a Big Ten championship next season.
The Top Dogs in the Big Ten Look More Imposing, now, Than Ever
Brady Hoke has brought the Michigan football program back, Bret Bielema's Wisconsin teams have proven to be consistently strong, Mark Dantonio's Michigan Spartans are for real and the Ohio State Buckeyes are now led by Urban Meyer.
Looking at the aforementioned conference big dogs versus the current state of affairs at Nebraska, the Huskers place in  Big Ten hierarchy could easily be found mired somewhere among the middle of the rest of the pack for the foreseeable future.
I was wrong about the Huskers winning the Big Ten in 2011, maybe I'm wrong now.  Nonetheless, in my opinion, the window of opportunity for Bo Pelini to win a conference title was his last two years in the Big 12 and his first year in the Big Ten. It may be awhile before another window opens.
What do you think?
 [poll id="35″]