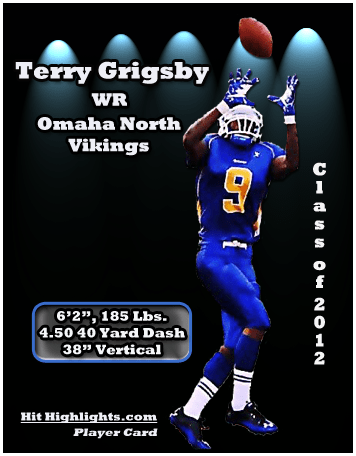 Three more Nebraskans receive "official"  D-1 offers. I  quote the word "official" because months ago Papillion-La Vista's Dylan Utter emailed MHN to inform that Army had made him an offer this past summer. However, as time went on, I became suspicious since no other recruiting source had reported this supposed offer (click here to read the MHN article). Good to see that it was legitimate.
In addition to Utter, big TE prospect Matt Miller, Omaha Skutt Catholic, also picked up an offer from Army and Omaha North WR Terry Grigsby got a nod from Ohio's Frank Solich.
The recent offers bring the total number of – known – D-1A offered players in the class of 2012 to eight.  Not bad. But there's still more time for more!
Click here to see the latest class of 2012 recruiting updates.
 Pictured at left:  Omaha North's Terry Grigsby Catches a Big One – a  D-1A offer that is.