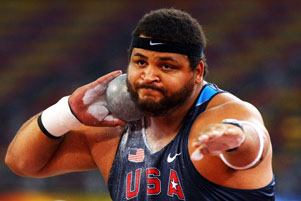 If shot putter Reese Hoffa's world season-best 71'3.75" shot heave on Wednesday at the Kansas Relays is any indication of what's ahead, this Olympic Games year Kansas Relays could pack quite a punch.
Hoffa, the 2012 U.S. Indoor Champion and world's 3rd ranked shot putter, bested a strong world-class field that included: 2012 World Indoor Champion  Ryan Whiting; 2008 Olympic silver medalist Christian Cantwell and 2011 World Championships silver medalist Dylan Armstrong (Canada).
Known as one of track and field's most colorful characters because of his penchant for dressing up in costumes like the "Unknown Shot Putter" during performances and taking his traditional victory lap while munching on a turkey leg, Hoffa definitely ranks high among the favorites to win the shot put gold medal at 2012 Olympic Games in London.
Related Link