Omaha Burke Coach Kenyon Sharp keeping his troops focused
By Will Cummings
myHitNews.com
   
   On Saturday night, Coach Kenyon Sharp's Burke Bulldogs traveled down to Lincoln for a district opener, and looked every bit a top-tier team as they beat Millard West for the third time this season by the score of 58-46.
   Silky smooth junior Scott Davis poured in 22 points to lead all scorers, while Ray McGaugh added 10. However, as good as those two performances were, it was guard Adonis Hill who seemed to be the grease that kept the Bulldogs in high gear.  Adonis Hill controlled the offense with his outstanding ball handling skills and explosive first step, found the open man, penetrated and broke down the opposing defense when needed and was a pesky defender when he didn't have the ball in hands.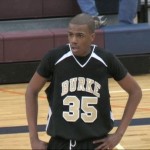 Burke certainly has the coaching and the talent to beat any team in the state but their toughest opponent is "Consistency." You never know for sure what team will show up.
   If the Burke Bulldogs can find a way to master the big "C" they could go deep–very deep–into the state tournament bracket.
   This Tuesday night will measure just how good the Bulldogs really are.
See a few game highlights below:
 httpvh://www.youtube.com/watch?v=-qCTRROgqT8