Central's Ted Lampkin has Big Day for Boys, while Fremont's Distance Runner Danny Aldaba proves to be a Monster in the Making.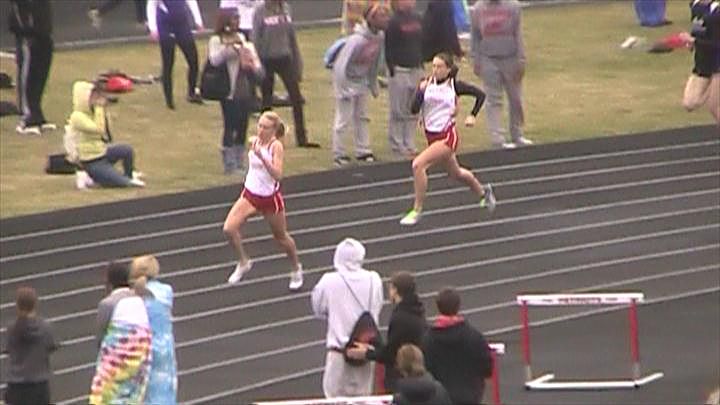 OK. I'm going to say it: When I first saw Nichols run in this meet as a freshman, I wrote the following in an article titled Clara Nichols is One to Watch in '09-Freshman Scores- Triple Gold At-Millard South Invite: "Along with her form, Nichols has the type of God-given frame that can mature and allow her to become one of Nebraska's best girl sprinters ever."
A noticeably leaner and more toned Nichols has obviously been working to make the best of what God gave her. She has gradually improved her speed and strength each year, and as a result she now possess the kind of foot snap and leg kick that can take her to some girl times seldom seen in Nebraska high school track.  In my opinion, the upside for Nichols is high because she has such smooth mechanics, which is something that is very hard to train. But if a sprinter is blessed enough to have it all they need to do is refine it while they work hard to gain more power. More power means that a sprinter is capable of covering more distance with each snap of the foot when it contacts the ground; therefore, he or she is able to post faster times.
How fast can Clara Nichols go?
Will she break the 400 state meet record or even the all-time record this year?
All I can say with confidence is that if she stays healthy and keeps her focus she is more than capable of running a low 54 second 400 meter before her high school days are over. She could even challenge the 200 meter mark and don't count her out of making some historic noise in the 100. Because she will get stronger and more powerful—scary!
The meet record she broke was set by Omaha Central's Jasmine Johnson, an athlete I followed and worked around since the time she was in the 7th grade.  Nichols beat her record by almost half a second. Johnson had plenty of power but came up a little shy on form. That's why I know we haven't seen the best of Nichols yet!
---
Ted Lampkin showed nice form in breezing to easy victories in the 100 and 200 and he also added a few more inches to his season's best triple jump (46′ 10 and 3/4). His jump was just  1/4 inch shy of a meet record. The Iowa State bound Lampkin finished the day anchoring the Eagles' meet record setting 4X100 team (42.52). He will have a tough decision to make come state time. What event will he drop?
Danny Aldaba: The Fremont sophomore makes it look easy. He will post top 10 times in the 3200 before his career is over.
Fremont sophomore Danny Aldaba blew away reinging state 3200 meter champion Marshall Anderson, posting a season's best time in the event of 9:29.34. This kid can run. He can really run! Look for some big things from him in the future.
Elijah Tostenson, a senior from Millard South, looked exceptionally strong in posting a season's best 1:59.34 800 meter. He almost missed out on the feat when he was tripped towards the end of the first lap and almost fell, before regaining his balance to win the race going away (see video below).
Millard West sophomore Sidney Hirsch lopped a bunch 0f seconds off her season's best 3200 when she won the event in 11:21.24.
Burke junior, Michell Walerstadt tossed the disc 152 feet 1 inch to lead all throwers in the state and break her own meet record by nearly 9 feet.
This season is really looking good.
Millard South High School Track and Field Invite 2011 Highlight Video. Featuring Clara Nichols, Ted Lampkin and Elijah Tostenson.
httpvh://www.youtube.com/watch?v=SEbQQD8mIkM
Related Link