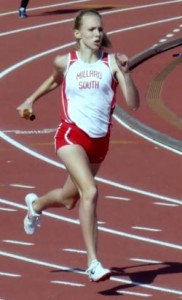 By Will Cummings
myHitNews.com 
   On a cold, damp and dreary day early last April, Millard South freshman sprinting sensation Clara Nichols served notice that she was one to keep an eye on in 2009. Displaying the kind of sprinting form that belied her young age, Nichols captured three gold medals at the meet, winning the 200, 400 and running the   anchor-leg on the girls 400 relay team.  She wrapped up the '09 season by capturing All-Class Gold in the 400 meters at the state meet.  And that was no easy task!  
  It was remarkable enough that a freshman girl could win All-Class Gold in this grueling event. Evermore so when Nichols accomplished the feat by besting her–freshman teammate–Morgan Woitzel who ran 55.76 in the prelims to tie the Class A State Meet record in the 400 meter.  In the finals matchup between the two, Nichols hit the tape at 56.059 to beat Woitzel by less than a mere tenth of a second.  
    I cannot tell you which one of these girls will prevail in the 400 meter at the Nebraska HIgh School State Track and Field Meet this year. Both are exceptionally strong sprinters with very impressive running forms, something that can only be attributed to some great coaching along the way. Woitzel is faster: She is fast enough to also be a contender in 2010 for Class A Gold in the 100. Woitzel ran 12.359 to place 5th in the event at state last year.   
   Nichols is fast too, but her sprinting style is more suited for her to make noise in the 200. She barely 
missed Class A Gold in '09, running a 25.245 to take second place. As you may see, It's quite conceivable that these two teammates could sweep the girls Class A sprints at state in 2010.  Millard South track coach Dustin Llewellyn must be smiling ear-to-ear at the thought. 
   I may not be able to say for certain who will win the 400 meter but it's a certainty that these two outstanding sprinters are poised to bring more excitement and record breaking performances to the track this season. I just wonder if there is another freshman girl lurking out there that might burst onto the scene this year to surprise us all. 
Below, check out Clara Nichols' April 9, 2009 performance at the Millard South Invite:
httpv://www.youtube.com/watch?v=5saSOmO0ODA