Bronson Marsh Note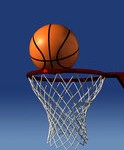 By Will Cummings
myHitNews.com
   This high school basketball season has seen Omaha Central Eagles' Deverell Bigss and Sean McGary established themselves as the best backcourt duo in he state. In preseason comments, I previously gave that distinction to Burke's Ray McGaugh and Adonis Hil. Unfortunately that duo has not led to a winning formula for the Bulldogs this season.
   Our Preseason Top 25 Nebraska HS Basketball Prospect ranking had Biggs at No. 8 and McGary at No. 15. Both look to make a move up in our final end of the season ranking.
   Omaha Skutt coach Jon Burt put it best about Biggs in a quote the Omaha World-Herald attributed to him after his Class B No. 1 team's 54-79 defeat last night to Central:
"Deverell showed that when he's on his top game, if he's not the best player, or definitely the best guard in the state, then I don't know who is," Burt said. He's so hard to handle.
   Biggs is one of the most heralded basketball players in the state, while McGary, a 6-2 senior, who transferred from Omaha Bryan to Central two years ago and started in all of the Eagles' games last season, is without doubt one of the most underrated high school basketball players in Nebraska. McGary not only distributes the ball well, he can score from anywhere on the court and is a very good defender– a complete player.
The Eagle Nest Duo combine to average 36 points per game: Biggs (20. 6); McGary (15.7).
Bronson Marsh
   Well,  it's official–I think. The Huskers offered Marsh a gray shirt on Monday (January 25). I can't see the 6-0, 205 lb stud out of Millard South turning them down. The Huskers want him at safety and not at QB that is Marsh's only issue. I say, "Young man don't worry about where you start out in college ball, you never know what position you may ultimately end up playing. You never know. Injuries poor performance and the like may see them tapping you for a try at QB one day."