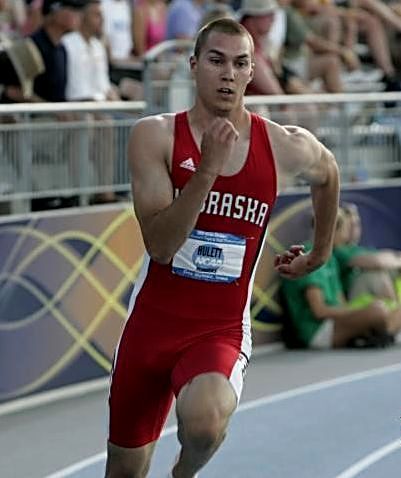 Ran at maximum effort—the 400 meter dash will tax the human body and mind more intently than perhaps any other sporting event:
By the time an athlete reaches turn No. 3 his legs feel like they are on fire and the body's numerous organs and systems begin to scream to the brain "shut down!"

As he comes out of turn No. 4 and into the home stretch, his legs feel like lead weights, the lungs like they are about to collapse and the heart as if it were about to burst wide open.
Every movement begins to feel like it's happening in super-slow-motion. The only thing left for him to do is to rely on those grueling training sessions that have prepared him for this very moment: " breathe, relax, move your arms, kick the elbows back hard, lift the knees."  This is where the real race begins—it's when the mind begins to challenge the will:
"Can I hold on to this lead?"  "Can I can catch the guy in front of me?"  "Can I run the fastest time?"

On May 21, the athlete that best manages to conquer the body and the mind through his pre-race conditioning and his sheer force of will during the finals, walks away as the 2011 Nebraska Track and Field State Meet all-class 400 meter champion.

The field of competitors that will vie for the coveted 400 meter all-class gold medal at this year's state meet will be one of the strongest and deepest to ever appear in Burke Stadium. Nearly a dozen athletes have already posted sub-50-second times in 2011—four have run under 49 seconds. Even more impressive—the vast majority of the state's top 400 meter sprinters are juniors and sophomores:
Nebraska HS Top 400 Meter Sprinters in 2011

Name, Year, School

Class-District

Best




400




Time

Best




200




Time

District




400


Time


* = won District

Sam Foltz, 11, Grand Island

A-4

48.58

NT

48.58*

Levi Gipson, 11, Lincoln Christian

C-2

48.80

22.10

48.80*

Cody Rush, 11, GI Northwest

B-5

48.80

21.50

50.30*

Will Bamesberger, 11, Grand Island

A-4

48.99

NT

48.99

Dennis Barfield , 11, Omaha Central

A-1

49.30

22.40

49.34*

Garrett Teel, 10, Lincoln Pius X

A-2

49.35

22.00

49.76*

Sam Burtch, 12, Elmwood-Murdock

C-2

49.50

22.60

49.50

Terry Grigsby, 11, Omaha North

A-3

49.57

23.36

50.47*

Jordan Wilson, 12 , Blair

B-1

49.90

22.0

49.90*

Tanner Dewey, 10, Beatrice

B-3

49.90

22.97

49.90*

Ryan Wieser, 12, Sidney

B-6

49.90

24.02

50.70*
Breaking Down the Chase for 2011 400 Meter All-Class Gold

The all-class 400 meter gold will be awarded to the winner of Saturday's class A, B or C finals (no legitimate Class D challengers this year). Likely to fill 5 of the available 8 lanes in the last showdown of the season in Class A are some high flyers that all have a legitimate shot at coming out on top:

Class A—Sam Foltz, Will Bamesberger, Dennis Barfield, Garrett Teel and Terry Grigsby.

On paper,

Sam Foltz

, having recently posted the fastest time of the season at districts (48.58), should come out on top. But paper is no match for the sharp scissors of actual race day completion. A miscalculation of strategy or a bad stride on Foltz's part could leave him coming in behind even his teammate, Bamesberger. And like I mentioned at the start:

He who possesses

the strongest will on race day will come out the winner

.

That's why everyone had better watch out for Central's

Dennis Barfield!
The 2011 Metro champ has

good speed and he runs hungry—with the eye of the tiger mentality! 

Garrett Teel

also
bears watching: the big, strong, Lincoln Pius X sophomore has very good speed (22.00 @ 200m) that he knows how to use to his advantage. The dark horses are

Will Bamesberger

and

Terry Grigsby

. The former was recently beaten by Foltz at districts and Grigsby has not demonstrated the speed (23.36 @ 200m) that he will need to hang down the stretch with this fast group—a victory by Grigsby would come by way of executing a great race strategy and sheer will power.

Note: It will be interesting to see who are the other 3 boys that make it to the boys class A 400m finals. Because every dog has his day. Consequently, you never know when an athlete will have an "outer body experience" that raises him to a whole new level.

Class B—
Cody Rush, Jordan Wilson, Tanner Dewey and Ryan Wieser



Cody Rush

has turned in the most consistent top times of 2011, posting two sub-49 performances. The field he will run against in the finals is not as strong as the Class A field, but he had better watch out for Beatrice's

Tanner Dewey

. The sophomore recently ran a PR of 49.90 at districts—he could be in the midst of peaking for another PR.

Class C—
Levi Gipson vs. Sam Burtch



Levi Gipson

is one of the best sprinters in Nebraska. He posted the best 100m time this season (10.50); one of the the fastest 200m finishes (22.10) and the second fastest 400m (48.80). Gipson beat

Sam Burtch

soundly at districts, a likely finalist who represents the extent of legitimate competition he will face on the last the day. Therefore, to win the all-class gold medal, Gipson will have to run for time.
All-Class Gold 400 Meter Winners and Times
(since 2000)
2010-Brandon White, Omaha North, 48.55
2009-Brandon White, Omaha Westside, 49.07
2008-Nicholas Johnson, Omaha North, 48.97
2007-Matthew Donahue, Fremont, 48.28
2006-Lukas Hulett, Bellevue East, 47.81
2005-Lukas Hulett, Bellevue East, 48.15
2004-Jaron Dock, Norfolk, 48.67
2003-Andy Birkel, Lincoln Southeast, 47.77
2002-Joel Duffield, Morrill, 48.33
2001-Antoine Johnson, Omaha Benson, 48.66
2000-Jeff Phelps, North Bend, 48.21
Average Winning Time = 48.41
One Sophomore Champion

:
Jeff Phelps, North Bend's (Class B )—2000.


Two Non-Class A Gold Medalist

:
Phelps and Joel Duffield Morrill—2002.


Two Back-to-Back Champions

:
Brandon White—'10, '09 (at 2 different schools North and Westside)
Lukas Hulett—'05, '06, Bellevue East.




State 400 Meter Record:

46.98, Lukas Hulett, Bellevue East—2006.


Class A SM Record:

47.43, P.J.  Grooserode, Lincoln Pius X—1997.


Class B SM Record:

48.20, Mike Cielocha Columbus Scotus—1977.


Class C SM Record:

48.33, Joel Duffield Morrill—2002.


Class D SM Record:

49.00, Lynn Menke Marquette—1985 .
Conclusion:
Predicting the boys 2011 400 meter all-class gold medalist is simply too difficult to call with any certainty, due to the high level of top talent in all three finals. But rest assured that the eventual champion will proudly walk around Burke Stadium—wearing a gold medal draped around his neck—knowing that he conquered one of the strongest fields ever assembled at the state meet.

Event: 2011 State Track and Field Meet Boys 400 Meter Finals
Location: Harry A. Burke High School 12200 Burke Blvd Omaha, NE
Date & Time: Saturday, May 21, tentatively scheduled to begin at 12:55 P.M.

Extended Weather Forecast: 76 HI, 56 Low, cloudy, 40% chance of T-Storms

Related Links