Daniels Living Up to the Hype
By Will Cummings
myHitNews.com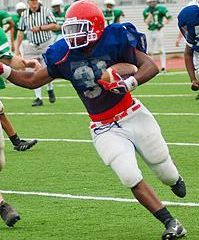 Congratulations to Antaries Daniels for breaking the Nebraska high school Class A single-game rushing record, with his 410 yards on 36 attempts against Omaha Benson on Friday, October 23, 2009, at Omaha Northwest High School.
His record breaking performance also shattered the 1991 school record held by his curent head football coach, Damon Benning. The former Class A single-game rushing record of 398 yards was also set in 1991 by Omaha South's Jerry Swain.
Daniels definitley saved his best for last as his record shattering performance will be the final high school football game of his career. What a way to go out!